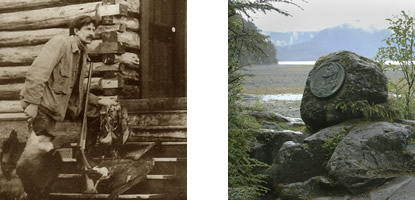 For nearly a century, photography has played a strong role in Sitka National Historical Park, and Elbridge W. Merrill is considered the legendary father of art photography in the area. Merrill served as the park's first official custodian from 1919-1922. During that time, Merrill worked with Governor John G. Brady to install the park's historic totem pole collection along the trails.
Born in Massachusetts in 1870, Merrill first worked as an engraver and news photographer before moving to Alaska in the 1890s. He was first brought to the area by the lure of the Klondike gold rush, but ultimately ended up in Sitka after failing to strike rich up north.
Merrill's favoritism of the park is shown by the number of photos that feature the park, or use it as a background for other subjects, such as commercial portraits. Today, Merrill photographs are as important for the historical information they preserve as they are for their artistic composition.
Sitka National Historical Park has a collection of over 200 Merrill glass negatives.
Obtaining Copies from the E.W. Merrill Collection
Copies of E.W. Merrill photographs can be obtained from the Alaska Historical Collections of the Alaska State Library. The Alaska Historical Collections have 4 x 5 inch copy negatives of Sitka National Historical Park's original Merrill glass negatives. The Alaska Historical Collections have a system in place for ordering high quality photographic prints of these pictures.
You can obtain more information about ordering prints online at
http://library.alaska.gov/vilda_rights.html
; or they may be contacted at the Alaska Historical Collections, Alaska State Library, P.O. Box 110571, Juneau, Alaska 99811-0571, telephone: (907) 465-2925, fax (907) 465-2990. Some of the Merrill photographs are considered sensitive and require special permission for reproduction. You may call the park curator for more information on sensitive photographs at (907) 747-0141.


How to obtain a copy

Copies of the photographs are available from the Alaska State Library Read More