Shiloh Battlefield Visitor Center to Close for Remodeling

On October 27, Shiloh Battlefield's Visitor Center will close for remodeling. The work will take two to three weeks to complete. Visitors will be able to view the park movie and receive assistance from rangers in a tent erected next to the park bookstore. More »
Blind / Low Vision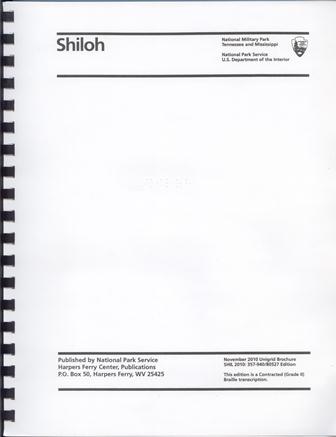 NPS Image
For Those with Sight Impairments:
Visitors may purchase an audio CD at the Shiloh Bookstore to guide them through the Shiloh Battlefield tour.
A Braille version of the Shiloh/Corinth brochure is available for loan at the front desk of each facility.
Additionally, there is a tactile feature map of the Shiloh Indian Mound complex at the Indian Mound Interpretive Shelter.
At the Corinth Civil War Interpretive Center exhibits include "sound sticks" which interpret the military and civilian experience in Corinth during the war.
Did You Know?

Shiloh National Military Park contains within its boundaries an almost pristine set of Indian Mounds. Although not significant in terms of the battle, the mounds complex (a National Historic Landmark in and of itself) contains a fascinating and important history in its own right.