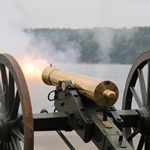 On Sunday, June 15, Shiloh will present cannon firing demonstrations for the public. Join the Shiloh Volunteer Cannon Crew as they fire the park's 6-pounder field piece. The 30-minute demonstrations will take place at 11:00 am, 1:00 pm, and 2:30 pm, across the street from the park Visitor Center. 
*Rain will cancel the firing demonstrations. 
An error occurred displaying the event. Please contact an administrator.