Shiloh Battlefield Visitor Center to Close for Remodeling

On October 27, Shiloh Battlefield's Visitor Center will close for remodeling. The work will take two to three weeks to complete. Visitors will be able to view the park movie and receive assistance from rangers in a tent erected next to the park bookstore. More »
Shiloh Indian Mounds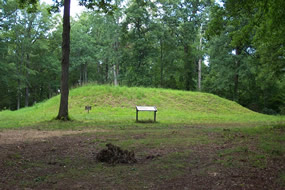 (NPS Photo)
About 800 years ago, a town occupied the high Tennessee River bluff at the eastern edge of the Shiloh plateau. Between two steep ravines, a wooden palisade enclosed seven earthen mounds and dozens of houses. Six mounds, rectangular in shape with flat tops, probably served as platforms for the town's important buildings. These structures may have included a council house, religious buildings, and residences of the town's leaders. The southernmost mound is an oval, round-topped mounds in which the town's leaders or other important people were buried.
For more information on the mounds, click on the links below:
Shiloh Indian Mounds Archeology
Did You Know?

Sam Houston, Jr., son of the famous Texas president and then governor, was wounded at Shiloh. He served in the 2nd Texas Infantry.