Shiloh Indian Mounds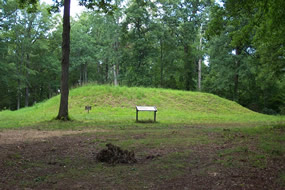 (NPS Photo)
About 800 years ago, a town occupied the high Tennessee River bluff at the eastern edge of the Shiloh plateau. Between two steep ravines, a wooden palisade enclosed seven earthen mounds and dozens of houses. Six mounds, rectangular in shape with flat tops, probably served as platforms for the town's important buildings. These structures may have included a council house, religious buildings, and residences of the town's leaders. The southernmost mound is an oval, round-topped mounds in which the town's leaders or other important people were buried.
For more information on the mounds, click on the links below:
Shiloh Indian Mounds Archeology
Did You Know?

The Corinth Civil War Interpretive Center sits at the site of Battery Robinett, where some of the most brutal fighting in the Battle of Corinth took place. Today, the battery site contains the graves of a Civil War general, a colonel, and several other soldiers.