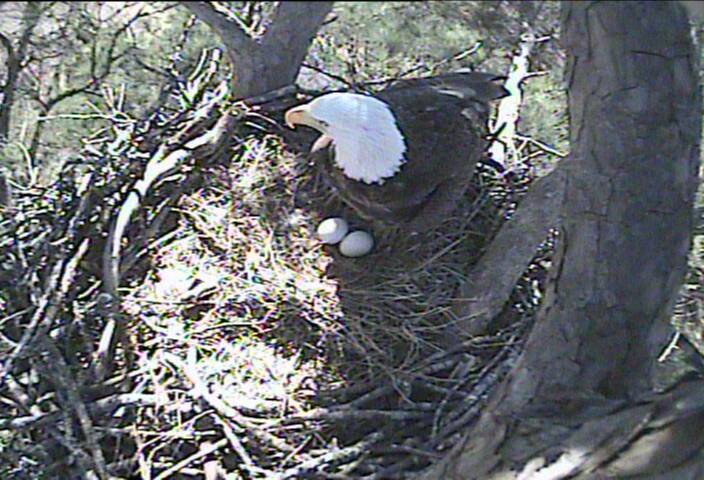 NPS Photo
Shiloh Battlefield's most famous wildlife residents have laid their second egg of the nesting season. The eagle camera system, installed on February 3, 2011, in a tall pine tree overlooking the four-year-old nest, confirmed the presence of two eggs on Friday morning, February 11th. The first egg was laid three days earlier on the morning of Tuesday, February 8th.
Named by park staff after General Ulysses Grant and his wife, Hiram and Julia made their home at Shiloh in the fall of 2007, and have since successfully raised four eaglets on the battlefield. Each year as the size of their nest has increased, it has become more difficult to observe nest activity from the ground. The new eagle cam provides a way to better track this exciting story as it unfolds. In their previous three nesting seasons, Hiram and Julia have always laid two eggs, and this year appears to be no different.
A monitor with live feed from the eagle camera is now accessible to the viewing public in the Shiloh Battlefield Visitor Center. This will allow park visitors to monitor the eagles' nesting progress as well. Hiram and Julia will alternate sitting on the eggs until they hatch, which takes around 35 days. The first hatching should take place around the end of the third week in March, as early as the 16th.
A local photographer has chronicled the three years of Hiram and Julia on his website shiloheagles.com and continues to update the site daily.
Park staff will update this page as the nesting process continues.