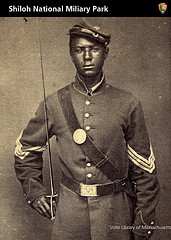 State Library of Massachusetts 
Kentucky slave Andrew Jackson Smith fled to freedom early in the Civil War, serving as a laborer in the 41st Illinois Infantry. Severely wounded in the head at Shiloh, Tennessee, on April 6, 1862, Smith recovered and later joined the 55th Massachusetts Colored Infantry. He was awarded the Medal of Honor for distinguished service at the Battle of Honey Hill, South Carolina, in 1864.
Kids can earn Jackson's trading card and four others at Shiloh Battlefield.
Ask a ranger how.