Kids! Beginning on Monday, July 16, 2012, you will be able to collect stories about the Civil War and civil rights! Shiloh Battlefield and the Corinth Civil War Interpretive Center are offering 10 trading cards to mark the 150th anniversary of the Civil War. Visit the parks in person to earn a card (sorry, cards cannot be mailed). Ask a ranger or stop by the visitor center at Shiloh and Corinth.
The National Park Service is offering cards at nearly 90 national parks in 31 states and the District of Columbia. You can view all the cards online. You'll be surprised at what you will learn.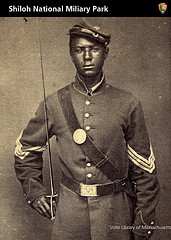 State Library of Massachusetts 
Kentucky slave Andrew Jackson Smith fled to freedom early in the Civil War, serving as a laborer in the 41st Illinois Infantry. Severely wounded in the head at Shiloh, Tennessee, on April 6, 1862, Smith recovered and later joined the 55th Massachusetts Colored Infantry. He was awarded the Medal of Honor for distinguished service at the Battle of Honey Hill, South Carolina, in 1864.
Kids can earn Jackson's trading card and four others at Shiloh Battlefield.
Ask a ranger how.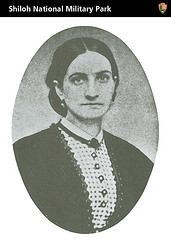 NPS
In April 1862, young Kate Cumming traveled from Mobile, Alabama, to Corinth, Mississippi to serve as a nurse in the hospital set up in the Tishomingo Hotel. Her journal provides vivid descriptions of the hardships medical volunteers faced while performing the daunting task of caring for thousands of wounded soldiers after the Battle of Shiloh.
The Kate Cumming trading card and four others relating to the Siege and Battle of Corinth are
available at the Corinth Civil War Interpretive Center.