Wilderness 50th Anniversary Events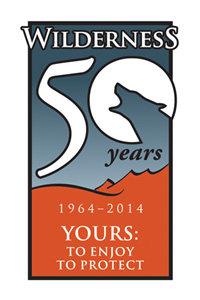 It has been 50 years since President Lyndon B. Johnson signed the Wilderness Act of 1964. Join Shenandoah National Park to celebrate this pivotal environmental legislation. Shenandoah, along with the rest of the National Park Service and the other agencies that manage the National Wilderness Preservation System, will sponsor special events throughout the year. Come enjoy YOUR Wilderness!
Shenandoah's Wilderness
Shenandoah has 79,579 acres of Wilderness--that's 40% of the park! One of the largest Wilderness areas in the Eastern United States, Shenandoah's Wilderness offers opportunities for solitude, scenic views, wildlife sightings, and glimpses into the past. You can experience Shenandoah's Wilderness by hiking through it or looking into it from Skyline Drive. Congress designated Shenandoah's Wilderness in October 1976. Areas preserved as Wilderness provide sanctuaries for human recreation, habitat for wildlife, sites for research, and reservoirs for clean, free-flowing water. Wilderness areas have been designated on public land across the United States. Today more than 109 million acres of public land are protected in the National Wilderness Preservation System. Find out where to experience the Shenandoah Wilderness and see videos and photos of this special place.
Wilderness Week
August 30 - September 7
Parkwide
Its all about Wilderness this week. Ranger talks, walks, hikes, demonstrations, and more! A Wilderness film festival. Wilderness Junior Ranger programs. Celebrate the 50th Anniversary of the Wilderness Act with us!
See
what we have planned for the nine-day celebration.
Ranger Programs
Rose River Wilderness Hike
August 30, September 1, September 5, September 7
10:00 a.m.
Explore the benefits of designation Wilderness on this hike through a part of Shenandoah's Wilderness. Wear sturdy shoes and bring water. Meet at Fishers Gap Overlook (mile 49.3), 4 hrs, moderate, 4-mile hike.
Chimney Rock Hike
August 16, August 31, September 3, September 6
10:00 a.m.
Discover Shenandoah's Wilderness on this hike with great views and compelling geology. Wear sturdy shoes and bring water. Meet at Riprap parking area (mile 90), 3 hrs, moderate, 3.4-mile hike.
Seminars
Celebrating Wilderness Through Nature's "WILD" Symphonies
September 2, September 4
10:00 a.m.
Location: Fishers Gap Overlook (mile 49.3)
Explore the power and value of natural sound as we head in the Wilds of Shenandoah. We will be stopping along our route to document and record various soundscapes that will be added to the park's natural sounds library. Wear sturdy shoes and pack water, lunch, and snacks. Meet at Fishers Gap Overlook (mile 49.3), 4 hrs, moderate, 2.5-mile hike.
Celebrating Wilderness Through Photography- FULL
September 6, 2014
9:30 a.m. - 4:30 p.m.
Location: TBA
Join professional photographers Rob and Ann Simpson to learn skills that will help you capture your nature and wilderness experiences through photography. Participants will practice a variety of photography techniques including scenic, macro, and telephotography. Participants should bring their own camera equipment. Any type of camera, including point-and-shoot, are welcome. Tripods are recommended but not required. The seminar is FREE with your paid park entrance fee but space is limited to 25 participants, ages 12 and up. Pre-registration is required. To register for the seminar or for more information, contact the park's Education Office by phone: 540-999-3500, ext. 3489, or by email:
e-mail us
. (Click
here
to download more information.)