Lodging, Restaurants, and Other Facilities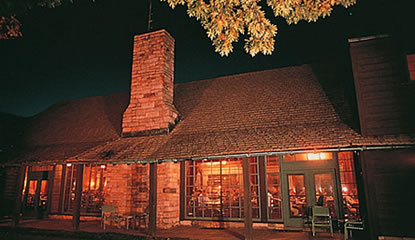 Elkwallow Wayside

(mile 24.1) The Wayside offers a variety of breakfast selections and sandwiches and grilled items for lunch and dinner, with seating outside on the patio or at picnic tables.

Skyland

(mile 41.7 and 42.5) Dining room with table service. Menu includes appetizers, salads, entrees and desserts.

Big Meadows Wayside

(mile 51.2) The Wayside houses a full-service dining room with carryout service and offers a varied menu of regional favorites and contemporary food.

Big Meadows Lodge

(follow signs from Skyline Drive at mile 51.2) Dining room in lovely rustic setting. Menu includes appetizers, salads, entrees, and desserts.

Loft Mountain Wayside

(mile 79.5) The Wayside has a dining room with counter service, with seating inside and outside on picnic tables. The menu includes a variety of breakfast selections, sandwiches, and grilled items. For more information about services, visit the concessionaire website.
Lodging
Nestled in the heart of Shenandoah you will find multiple
lodging options
that cater to different tastes and needs. We have the comfy Big Meadows Lodge, the elegant Skyland Resort, and the rustic Lewis Mountain Cabins. Reservations are made through
Delaware North at Shenandoah National Park
Camping
Shenandoah has four
campgrounds
spread throughout the length of the park: Mathews Arm Campground (mile 22.1), Big Meadows Campground (mile 51.2), Lewis Mountain Campground (mile 57.5), and Loft Mountain Campground (mile 79.5). Three of our campgrounds are RV accessible. Reservations can be made with
Recreation.gov
or by phone at (877)444-6777.