Shenandoah staff will post a weekly fall color update each Friday through November 14, 2014. Reports are based on the writer's observations during the preceding week. Please keep in mind that the park is over 100 miles long and spans a wide elevation range. Fall color conditions can vary dramatically from area to area. Weather affects the color from day to day and even hour to hour. It is impossible to predict a peak. We will do our best to give accurate reports, but please remember that many variables contribute to conditions.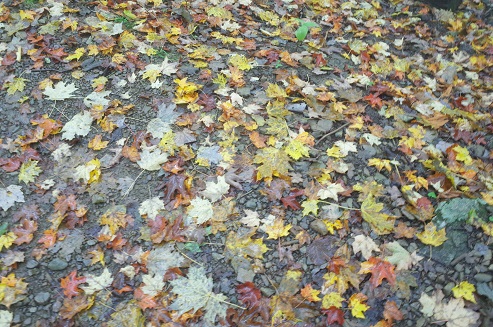 NPS photo
"My sorrow, when she's here with me, thinks these dark days of autumn rain are beautiful as days can be; she loves the bare, the withered tree; she walks the sodden pasture lane."
~ Robert Frost
Finding fall color in the area of Shenandoah National Park this week is like looking into a big vellum gift bag for a couple handfuls of M&Ms; it's there, but at the bottom of everything, in the lower depths. What you'll find if you come to Shenandoah National Park anytime in the next week or two is that most of the color at the highest elevations is gone. But if you pull off at some of the overlooks along Skyline Drive and look out into the Piedmont or the Shenandoah Valley, you're still going to see some brilliant dots dappling the bottoms of hollows. Some of them are pretty dramatic hues, too – backlit golds, moody plums, scarlets, and bronzes, russets the color of a pretty redhead's hair. If the sun is hitting those trees with leaves still left on them, you can still be mesmerized by the glorious array of colors here and there. That's what overlooks are for, so pull off and take a look as often as you can.
Don't forget to look down. On the ground you might find some bright colors still, artistic spatterings of leaves that have fallen. Be careful as you hike on downed leaves, as they can make the trails very slippery and dangerous, especially on rocks and when the leaves and ground are wet. But they're so pretty – like designer mulch made by nature.
Winter is coming. It's much closer than it was last week this time. The winds have picked up, and they're chilly. They smell and sound of snow. They are almost visible, conveying moods and emotions – the natural body language of the coming winter – melancholy lavenders, icy blue-whites, frosty silver-grays. The leaves that have fallen seem to come to life with the winds, twirling and tumbling along trails and across parking lots and Skyline Drive. Deer, when you see them, have put on their dark-taupe winter coats, and seem to bustle into food-finding, keeping-warm mode. Birds are somber seeming – dark gray juncos, black crows and ravens, dark vultures. Occasionally you might spot a red-tailed hawk or barred owl perched high in a leafless oak, looking for a rodent meal. Bright colors have faded and become darker, stoic, just a tad contemplative and gloomy – the colors of sleep and rest and getting ready for warmer months ahead.
Rest assured, those warmer months are coming.
This is the last fall color report for Shenandoah National Park for 2014. Fall color reports will begin again next autumn, probably the last week of September. Have a safe and wonderful winter.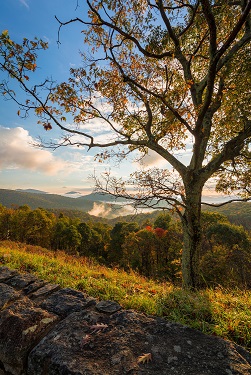 NPS/Neal Lewis
Fall color report for Friday, November 7, 2014

"The tints of autumn...a mighty flower garden blossoming under the spell of the enchanter, frost." ~ John Greenleaf Whittier
In the song "America the Beautiful" lyricist Katherine Lee Bates dubbed our country's ridges "purple mountain majesties." This week, when you look out from the overlooks along Skyline Drive, into the hollows and hills of Shenandoah National Park and across the Shenandoah Valley to the Massanutten Mountains and over the foothills of the Virginia Piedmont, that phrase might come to mind. When the trees shed their leaves late in the year, as the trees in Shenandoah and nearby hills and ridges are doing now, the mountains really do take on an amethyst glow. Purple is the color of royalty, and that royal theme reverberates nicely, as most of the color left in the park and seen from its overlooks is gold. Purple and gold – the park is positively regal this week!
Winter is coming. Everything in nature is hunkering down. These mountains and all their inhabitants will soon be under the spell of frost and cold. Dormancy reigns; time to rest and regroup. Most of the deciduous trees in Shenandoah have shed their leaves for the year – most, for there are still some impressive displays of sun-struck gold – almost metallic – in the lower elevations! Hickories, sassafras, and birches are hanging on till the end, and strutting their stuff. When the sun hits those still-golden trees, and you're there to watch (frankly, whether you're there to watch or not), the hollows and hillsides explode with light, beautiful light.
It's not over yet.
Here and there, as you drive Skyline Drive, you can still see polychromatic treats for the eye – sumacs who refuse to go drab, sassafras who seem to be vying for attention, the very occasional maple who seems to enjoy burning brightly just for you. There is a maple (or there was yesterday) on the west side of Skyline Drive between miles 25 and 26 who is putting on a one-tree fireworks show.
This won't last, this last burst of color. But it's here now, and if you can make your way to Shenandoah National Park and Skyline Drive very soon, you might get a front-row seat to autumn's last display.
This fall color report will be updated for the last time this year on Friday, November 14, 2014, so check in to see how the seasons and colors are changing in Shenandoah National Park.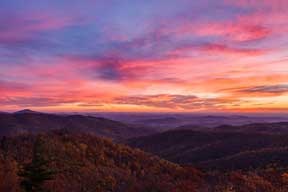 NPS/Neal Lewis
Fall color report for Friday, October 31, 2014

"Autumn…the year's last, loveliest smile." ~ William Cullen Bryant

"Gloriously golden" is how one poetic ranger described the hills and hollows of Shenandoah National Park this week. That, fans of Shenandoah, is a perfect description of this week's fall color.

The peak of color has passed in the park, no matter what part of it you're talking about. But that doesn't mean the color has disappeared completely, or even faded, everywhere. Many trees have lost their leaves, which means there are taupe-gray hillsides aplenty. The beauty of that situation, though, is that the trees which have not shed their leaves – particularly the hickories and tuliptrees that burn "gloriously golden" – stand out beautifully and proudly. Like candlelight shining through the eye holes and snaggle-toothed smile of a jack-o'-lantern, these incidental glowing trees flash and shimmer like nobody's business.

In the central, highest-elevation portion of the park, the trees' leaves have mostly loosed themselves and fluttered to the ground. As you drive along Skyline Drive in these highest parts of Shenandoah, you'll no longer see masses of color along the roadside. Though there are still some phosphorescent sassafras and sumacs – some so flushed, vibrant, and gorgeous you'll hardly be able to stand it – the forest has begun to pull on the blanket of less dramatic earth tones – ashen oysters, dusty doves, sere, mousy browns and grays. Even Big Meadows has sobered up for winter, having covered itself with the somber putties and smoky dull-metal irons and pewters of winter. Goldenrods and asters have gone to seed, and have shed their radiating mustard yellows and moonlit purples.

But pull off at an overlook anywhere in the park this week and you'll be treated still to those gloriously golden patches and dots of hickories and tuliptrees. In the hollows and valleys of this part of the Blue Ridge, you can still see an incredible array of hues: those glorious goldens, and also the bright-metal copper of oaks, the paprikas and cayennes of some late-changing maples, and the lime green of sycamores and moosewoods. The Low Gap area around mile 8 on Skyline Drive is awash in fiery golds, made mood lifting by the darkness of the almost-black predominating tuliptrees' trunks.

Here and there is still the brightly burning crimson maple – boo! -- and every now and then you'll see a henna-colored ash gleaming through the drabness. These are the late changers, and seem to have waited just a little longer to turn, almost as if they want to delight you, the Shenandoah visitor. Enjoy every treat, for they, too, will eventually shed their crayon tones to nod off and sleep deeply through the winter.

Generally speaking, the northern and southern parts of Shenandoah National Park – since they are in the lower elevations – are where you'll find the most color this late in the autumn season. But don't let that stop you from driving through the park's central district, as the views from the overlooks all along Skyline Drive into the kaleidoscopic low points are still gorgeous like the Promised Land. Come to Shenandoah and see it for yourself, if you can, sometime this week.

This fall color report will be updated on Friday, November 7, 2014, so check back then to see what's happening color-wise in Shenandoah National Park.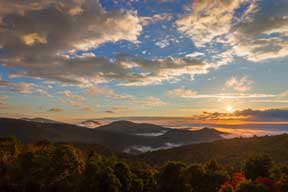 Fall color report for Friday, October 17, 2014
"There is a harmony in autumn and a luster in its sky…"
~ Percy Bysshe Shelley
Harmony indeed – harmony of color, light, and mood. That's what autumn brings to just about everyone.
This all might sound a bit lofty, yes. But if you come to Shenandoah National Park anytime in the next week, you might be surprised by how the colors of fall in the Blue Ridge help bring a sense of accord – with nature, with the world, with yourself. Gazing out into hillsides coated in the splendid golds, oranges, and scarlets of autumn is good for the blood pressure, a great stress reliever, a bringer of peace of mind.
Although it might seem like an easy thing to do, predicting a fall color peak is almost impossible – at least it's impossible to do expertly or well. Colors peak in different places – different elevations, different temperatures, different forest types – at different times. When the color is at peak at mile 42 along Skyline Drive, around Stony Man, it might still be very green at mile 10, at Compton Gap. A hillside that faces north, like the one you can see from Eaton Hollow Overlook at mile 70.3, can still be vivid green, even as the southwest-facing hillside directly across from it is flocked with the colors of a Thanksgiving Day buffet table. The color at Hawksbill, in the park's highest elevation, will peak long before that at Low Gap in the north district. Like meringue swirled and spun with a pie-maker's spatula and popped into a blazing hot oven, high points color first.
That being said, if there is one week to come to Shenandoah to absorb the de-stressing benefits of fall, it is this week. You're likely to see the widest range of color in these mountains between Front Royal and Waynesboro if you plan to arrive in the park sometime between now and next weekend. While there's still a surfeit of green in the leaves in the lower elevations, in many parts of Shenandoah green is just a backdrop for the speckles of pumpkin oranges, carnelians, wines, and almost metallic golds and bronzes of maples, Virginia creeper, hickories, and ashes. Sumacs are still surprising with their chameleon Day-Glo tones of shocking orange, chartreuse, and pomegranate red. Sassafras' mitten-shaped leaves seem to wave at you, in candy store shades – butterscotch, Fireball, lime, and tangerine. In places where the leaves have already started to waft ground-ward, a lone maple the color of a Tahiti sunset startles you awake. The views from Skyline Drive's overlooks are heart-stopping magnificent. Prepare to be surprised!
This fall color report will be updated on Friday, October 24, 2014, so check back then to see how the color is progressing.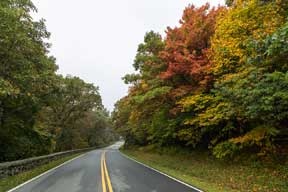 Fall color report for Friday, October 10, 2014

"Delicious autumn! My very soul is wedded to it, and if I were a bird I would fly about the earth seeking the successive autumns." ~ George Eliot

If you were able to fly like a bird over Shenandoah National Park right now, you would be able to see the big picture of how autumn is unfolding and expanding here; this 105-mile-long park would happily show you the many phases of a season. The northern third of the park has some of the lowest elevations, so fall – delicious fall, which flows down the mountain like candy sprinkle-flecked maple syrup over mounds of thick oatmeal – has begun to drip in a few bright, sweet spots here and there. Dogwood trees, features of the park's northern end, display different shades of scarlet, all of them subtle and muted. In the center of the park, the highest elevations, the mountainsides and summits flash large patches of dramatic oranges and reds, saffron yellows, turmeric golds. Blueberry bushes in the north half of Big Meadows, smack dab in the center of Shenandoah, burn chili powder red. In the south district the palette is sunnier – yellows, golds, pumpkin oranges, mangoes – with the occasional jolt of a neon-red maple spattering the canvas.

On the ground, driving Skyline Drive or hiking the park's trails, sumacs continue to blaze rainbow tones, like a rack of color samples in a paint store. Hickories, birches, and sassafras radiate happy hues of sunshine. (Even when it's raining, when you see these gold-hued trees smiling at you, you're fooled into believing the sun is coming out – arboreal mood lifters!) Goldenrods are fading, but purple asters continue to glimmer like moonbeams. One young maple stands proudly at Meadow Spring parking, offering every upbeat Day-Glo color you can imagine.

Fall oozes slowly this year. There's still a great deal of green – lodens, olives, limes. Low Gap, the tuliptree-filled area around mile 8 on Skyline Drive, is still mostly verdant, sporting only touches of yellow-gold in the very tops of the trees. Hillsides of oaks and evergreens still defy the color wheel of fall, providing a lovely backdrop to the polychrome patches of gums, maples, hickories, birches, and beeches.

That's the color THIS week. Remember, though fall seems to be coming on slowly this year in the Blue Ridge, it can change mood and tempo as it so desires – quickly, without warning or permission. It's a mercurial season. Like a woman in the old saying about the fairer sex, fall reserves the right to change its mind at any time. Come to Shenandoah to find out for yourself how autumn is progressing in the Blue Ridge.

This fall color report will be updated on Friday, October 17, 2014, so check back then to see how things are coming along.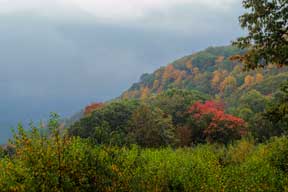 NPS/Neal Lewis
Fall color report for Friday, October 3, 2014
"I'm so glad I live in a world where there are Octobers." ~ L. M. Montgomery, "Anne of Green Gables"
This week the mountains are subtly polka-dotted with color. Red-orange, gold, auburn, and lime dot the still dark green hillsides and hollows like billiard balls on a pool table. That's what you'll see from many of the overlooks along Skyline Drive anyway. There's still a lot of summer green left in Shenandoah.
But as you drive through the park or walk its trails, close-ups offer something entirely different: Birches and hickories are still startling with marigold hues. Sumacs, always a pleasant shock, shout out their amazing neons. Virginia creepers are the stars of the forest, storming the woods' stage with their bright Hawaiian Punch-red displays. There is one dead hemlock tree on the east side of Skyline Drive, fittingly situated near Hemlock Springs Overlook, which is almost completely swathed in Virginia creeper, like someone draped a gravestone with a bright red scarf.
Asters and goldenrods are still gracing the roadsides and open spaces with hues reminiscent of a field in Provence –cheery yellows and lavenders. There are still quite a few bright green gum trees speckled with scarlet tips. Ash trees, like exotic ladies, smolder – purplish bronze on the outside, fiery amber within.
Big Meadows, in the park's center, has turned somber – taupes, camels, and various shades of brown – but it, too, is dotted still with paprika oranges and cumin-colored ochers. You can tell when you look at Big Meadows it's dozing off, preparing to pull on its winter blanket.
What's always fun to watch is the way fall oozes down the mountains, into the hollows and valley below. When you gaze out from one of Skyline Drive's overlooks, notice how this happens. Somehow, it's comforting to witness. Though it varies each year in its intensity and pace, fall moves this way year after year, soothing in its sameness.
The colors of the forest are changing by the day, by the hour, by the minute. Come to Shenandoah and see it for yourself.
This fall color report will be updated on Friday, October 10, 2014, so check back then to see how things are progressing.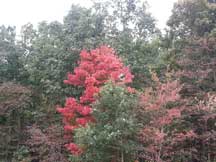 Fall color report for Friday, September 26, 2014
Every autumn is different, and every day –every hour –of every autumn is different. This year in Shenandoah National Park, some of autumn's colors are taking the stage, very boldly and by storm.
To be sure, most trees are still green. It's still early in the season, so that behavior is not unusual. Many trees are just beginning to take on a presaging gold-green. And some hickories and birches are alight, golden yellow, as are milkweeds' leaves. Virginia creeper, a prolific vine in the park, is transforming, too, into various shades of scarlet –wine, cherry, and candy apple. Dogwoods in the north district are dappled with bronze. Gums –also early changers –are dressed in vermillion, many of them since late summer. Sumacs are neon. Asters the color of moonlight and goldenrods the shade of sunshine are displaying their usual mood-lifting hues.In Big Meadows, blueberry bushes have blushed that shade of red you have to see to believe.
But the maples! Apparently, the maples –especially the sugar maples –have selected a few leaders to go ahead of the rest of tree tribe and glow. Dotting the hillsides along Skyline Drive very occasionally you may be startled by branch tips, whole branches, and even whole trees the color of fire. Surprise!
But note: This report is based on what was happening yesterday, Thursday, September 25. Autumn is mercurial, in Shenandoah National Park and everywhere else. Temperatures at night and in the daytime, wind, rain, and all the other weather features typical of a fickle season all affect autumn's mood. In other words, what you see when you arrive in the park may be very different from what you read in this report and the other five fall color reports forthcoming this season.
Consider yourself notified.
The best plan you can make is to just come to Shenandoah National Park and see for yourself how wonderful and beautiful this magical lady is –whatever colors she chooses to dress herself in.
The fall color report will be updated every Friday through the end of October, so look for the next one on October 3, 2014.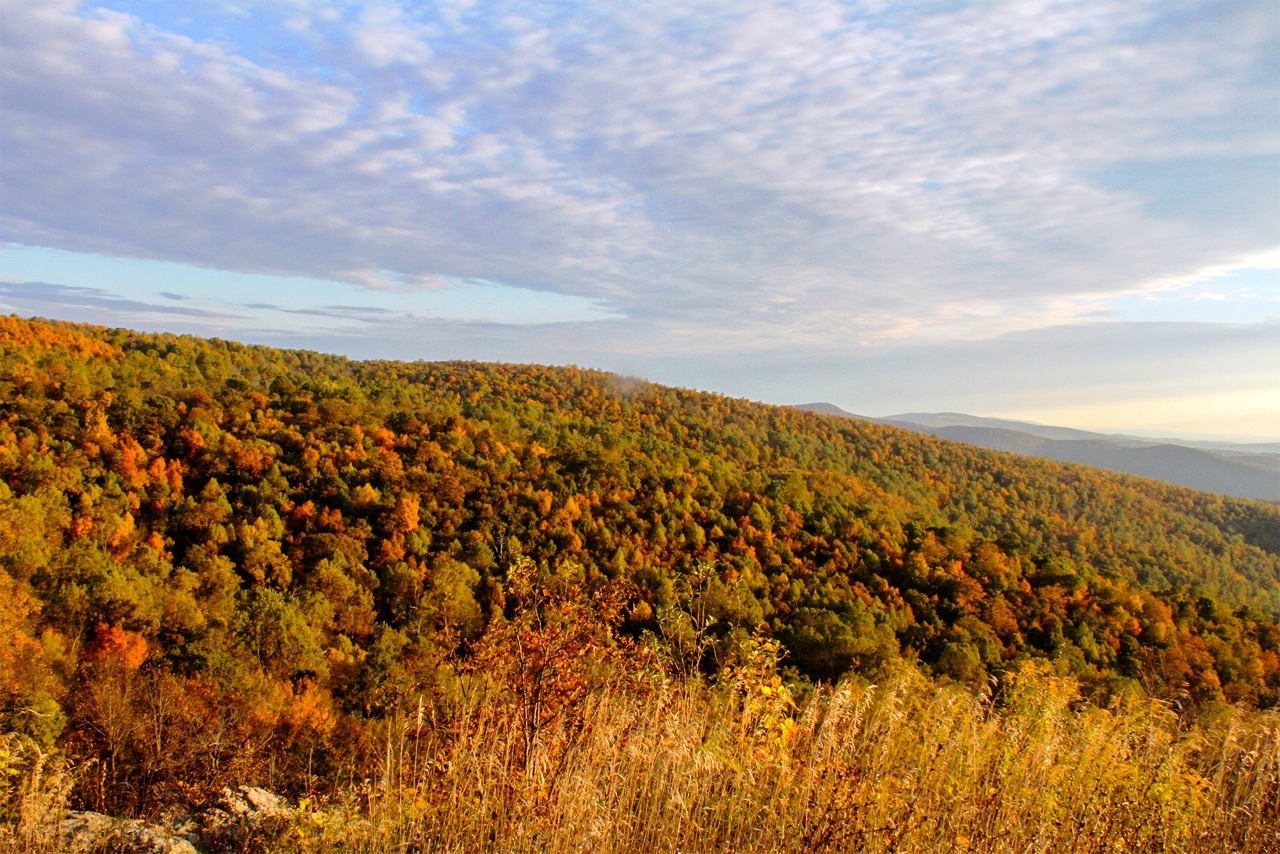 NPS/Denise Machado
October 31, 2013
Johnny Mercer wrote in his song "Autumn Leaves," "The falling leaves drift by the window, the autumn leaves of red and gold." For the most part, the autumn leaves have indeed drifted by the windows of campers, lodges, and dining rooms, at least in the mountains that comprise Shenandoah National Park. That is to say, the inscrutable peak of fall color on the ridge has come and gone.
But take heart! There's still plenty of color to be seen if you visit Shenandoah any time in the next few days. Sure, you're not going to find yourself standing under maples and oaks glowing with the blazing hues of early fall – fiery gold, Day-Glo orange, Atomic Fireball red. But when you gaze out from peaks like Compton, Hawksbill, Turk Mountain, or from overlooks along Skyline Drive like Range View, South River, or Trayfoot Mountain, you're still going to see lots of color. The lower elevations – the foothills of the Piedmont to the east and the Shenandoah Valley to the west – are still smoldering with the hues of a spice cabinet – cinnamons and cocoas, paprikas and cayennes, turmerics and cumins, even some dillweeds and filé powders, the greens that have either not yet begun to turn color or will never turn because they are evergreens like pines and a few hemlocks. There is still a wealth of hues on the hillsides and mountainsides, in the hollows and folds of these mountains. And standing atop a ridge or at an overlook in Shenandoah National Park is the perfect place to see those colors and watch them change like the natural kaleidoscope that is autumn in the Blue Ridge.
So, though the colors are fading, blowing away, and falling on the mountaintops, they are still luscious and well worth the trip in the lower elevations. That is to say, it's not too late to catch the beauty of fall in Shenandoah National Park. "Soon [we'll] hear old winter's song," yes, but right now the hills are still very much alive with the flame and smoke and iridescence of fall.
We hope you have enjoyed the weekly fall color reports. This is the final report for this year.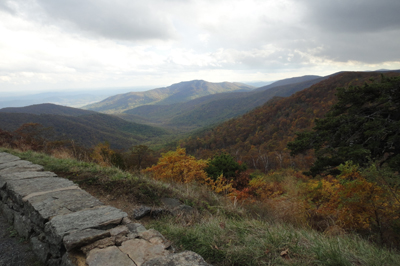 Fall color report for the week ending October 24, 2013
There's some really good news and some slightly bad news about the fall color in Shenandoah National Park. So, bad news first: we're past the peak. But: the evanescent "peak" is just that – fleeting, transient, a phantom. As we've said before (and we'll say it again), there's really no such thing as one big fall color peak.
But wait! Here's the really good news: the hills and hollows of Shenandoah are still resplendent with amazing color. If you visit the park this weekend, what you'll see is a sublime show of colors in the orange-gold range – brilliant, almost coppery yellows in the hickories, tuliptrees, and ashes; rosy paprikas and luminescent bronzes in ashes and maples; tobacco-tawny oaks. You'll still catch sight of some blazing sumacs and some flashing, lit-from-within sassafras, but most of those colors are fading now – fluttering, windblown, to the ground. If you visit Shenandoah this weekend, or soon, expect to see more mature, sophisticated colors. Though you might still see the occasional vivid red maple, gone now are most of the neons of late September and early October. Say hello to the smooth Sherries, the burnished Burgundies, the subtle ciders and aged apricots that typify late autumn in the Blue Ridge Mountains.
One of the best things about traveling through Shenandoah National Park in autumn is stopping at overlooks along Skyline Drive and taking in the view of multicolored trees blanketing the mountainsides like a richly toned Tabriz carpet. Even if the leaves are gone from the trees surrounding you at overlooks and ridge tops, the views from there can still take your breath away and make your heart skip a beat. It's that stunning. That's pretty good fall color news this late in October in these Virginia mountains!
There will be one more fall color report this season, so check back next week for the final update of the year.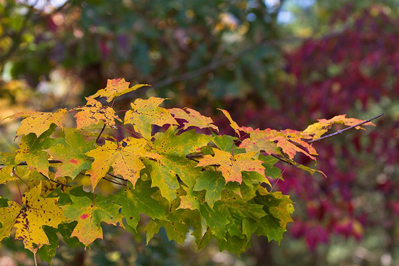 Fall color report for the week ending October 18, 2013.
Having been completely unaware of the recent 16-day Federal government shutdown during which Shenandoah National Park was closed, the leaves here continued to change since the last fall color report of September 27. In the northern section of the park, there is still some green, especially on maple trees, and although some trees still have their leaves and are showing some lovely fall hues, many of the oaks and dogwoods and much of the rest of the leaves are past peak color.
In the park's central portion, because that is where elevations are highest, fall color is past its peak as well – remember: the green of spring creeps up the mountain, but the russets, golds, oranges, and reds of autumn creep down the mountain. You will still see some vivid golds, especially on hickories and tuliptrees, but most of the more electric shades – the neon reds, tangerine oranges, Merlot purples, and lime greens – are gone. Big Meadows is still very pretty – it always is – but the color is fading, as the blueberry bushes that turn such a lively vermillion and wash the meadow with the color of Chianti wine have mostly shed their foliage for the year.
In the southern section of Shenandoah National Park, the color is just about at peak right now. You'll likely see a mix of trees that still have a bit of their summertime green, some that have pretty much lost their leaves, some that have turned about halfway, and some that are brilliant with color. There's still some Virginia creeper showing off its almost-unreal scarlet and some sassafras and sumac displaying their nearly luminescent arrays of tones, like a big freshly opened box of crayons.
The other color providers in the park, like goldenrod, Joe-Pye weed, and asters, are fading, too, and going to seed just before winter sets in. But don't let the fact that fall color in the Blue Ridge Mountains is moving past peak prevent you from coming for a visit. It's still a gorgeous place to be! And be sure to check back next week to find out what's happening color wise in Shenandoah National Park.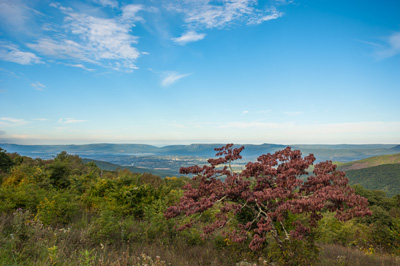 Fall color report for the week ending Friday, September 27, 2013.
Autumn has arrived in Shenandoah National Park! It's always thrilling, when cooler temperatures and light breezes portending winter start to stipple trees and flowers with the oil-paint colors of fall: citrines, chartreuses, ambers, cinnamons, cocoas, tangerines, and vermilions.
Overall, there's still quite a bit of summertime green in the park. If we're talking percentages, let's say colors ar
e only between 5% and 15% progressed toward the elusive color "peak." But this week, Shenandoah is, as one Byrd Visitor Center ranger put it, "losing its green luster." The dogwoods, most of which are in the park's north district, have put on their burgundy-bronze jackets. Virginia creepers and sumacs throughout the park are just beginning to show their more sassy deep scarlet and Caribbean neon sides. Asters and goldenrods are filling the views from overlooks and along Skyline Drive with abundant moon-purples, vivid whites, and luscious French's mustard yellows. Down south, toward the park's southernmost point at Rockfish Gap, little dots and smudges of reds are peeking out shyly here and there. Perhaps by this time next week these shy colors will have become more bold and adventurous. The Shenandoah National Park fall color report will be updated every Thursday through the end of October, so "tune in" next Thursday to find out!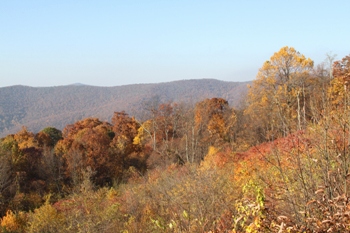 NPS
Fall color report for the week ending Friday, October 26, 2012
Fall color in Shenandoah National Park is well past peak in the higher elevations (between Skyland Resort and Big Meadows), and is just past peak in the lower elevations. However, there is still plenty of color to be seen here. The sassafras, sumacs, poison ivy, and Virginia creepers are still providing lots of vivid color throughout the park, and some of the oaks are at their loveliest now, wearing their muted shades of rust, cider, saffron, and cranberry - a Thanksgiving plate of hues.
But 'muted' is definitely the word of the week now, when it comes to fall color in Shenandoah National Park. Most of the vibrant oranges and scarlets and bright golds have blown away or fallen to the forest floor, especially in the Park's higher areas. Warm browns and cinnamons have replaced most of the more fiery colors of autumn in the Blue Ridge Mountains. Some lavender and white asters are hanging on, still blooming, but many have finished flowering for the year and won't be seen again until next fall. The milkweed pods have opened and are showing - and releasing -- their ghostly white, downy insides.
This is a great time to visit Shenandoah National Park! October crowds are beginning to thin out and it's not yet gotten bitterly cold. The vistas are wider because the leaves are gone; you can see for miles and miles, across the Shenandoah Valley and the Piedmont. The air is clear, the skies are often bright blue, and you couldn't ask for better hiking weather. Plus, it's hard to beat the fun sound of leaves crunching underfoot as you tread the park's trails!

We hope you have enjoyed this year's weekly fall color reports. This is the last update to the fall color report for this year.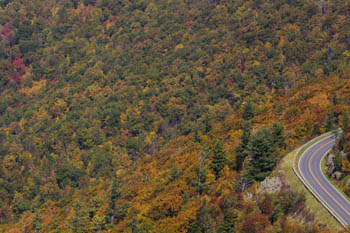 NPS
Fall color report for the week ending Friday, October 19, 2012
Fall color in Shenandoah National Park (or indeed anywhere) is hard to pin down; it's not into commitment, no matter how we try to make it fit our rules and expectations. This is a long somewhat skinny park -- more than 100 miles long - and its elevation range is 3,400 feet. When the colors of fall begin to emerge, they can go very quickly, often from summer green to full color almost overnight. You can travel just five or 10 miles along the Skyline Drive and in that short distance, drive through June greens, then through peak color so bright and stunning it will thrill you to the core - then through leafless trees and shrubs whose color has been shed onto the ground like so much confetti. Each year, each day, each hour is different. And when the higher elevations are past peak, you can still find lots of lovely fall color in the lower elevations.
That being said, these past few weeks Shenandoah National Park has caught on fire with color: hickories have gone from yellow to luminous gold; maples and gums and even some oaks (which usually change color a little later than some of their fellows) have put on dramatic coats of scarlet, neon orange and vivid magenta. (There is a beautiful oak tree in front of park headquarters on route 211 just west of Thornton Gap that has big spots of garnet-red so vivid among the rest of its still-green leaves that it looks like someone has decorated it for Christmas. It's a whimsical way for a tree to turn color, especially a tree as solid as, well, an oak, but there it is.) Some trees' leaves turn the most gorgeous shade of lime green on their way to becoming yellow and gold; there are currently some maples, sumacs, and sassafras trees which have turned this tropical shade, making the hillsides in some places - especially, this week, in the lower elevations (around the north and south ends of the park) - riotous with color.
Some of Shenandoah's plants are reliably colorful year after year - no matter what the summer weather or even the current weather brings - delivering electric shades to the park's hollows and ridges without fail: Virginia creepers regularly turn the dark red of strawberries; poison ivy vines turn every color in the spice rack at home; sassafras and sumacs turn - on a single tree or shrub - the most glorious oranges, chartreuse greens, bright reds, and golds you could imagine. This year is proving to be no exception, so look for those trees and shrubs to be among the most colorful you'll find. The good news is that many of these trees and shrubs grow right along Skyline Drive, so they'll be easy to spot and enjoy.
Fall color in the park's higher elevations - especially in the Central District (the 34 miles between Thornton Gap, off highway 211, and Swift Run Gap, off highway 33) - is well past peak. However, from those higher elevations, in the next week or so, you should be able to look out from the overlooks and see some colorful slopes, as fall descends down the mountain to the lowlands. In the lower elevations, though there is some green left, peak is occurring right now - the week before Friday, October 19. So if you visit the park this coming weekend, you can still expect to see some very nice fall color.
Shenandoah's actual colors are brightening in real-time - right now - and they're changing by the hour. Come and enjoy the amazing colors of autumn in this full-of-surprises Appalachian national park. Come soon!

This fall color report will be updated next week, one last time for the 2012 season.
NPS
This is the Fall Color Report for Shenandoah National Park for the week ending October 12, 2012.
Fall color in Shenandoah National Park is currently at 75% to 90% of saturation overall. Has it peaked? Will it peak in the next few days? It's hard to tell or predict. But that's how it goes when you're talking about Mother Nature: You never know when the peak is until the peak has passed. Predictions mean almost nothing, especially in a park like Shenandoah, whose elevations range from 600 feet to more than 4,000 feet. Since autumn creeps down the mountain, different elevations offer different palettes of color throughout the season.
Driving north on Skyline Drive from Thornton Gap (at mile 31.5) to Front Royal (mile 0), 80% to 90% of the trees are showing varying degrees of color, and as much as 50% of those are showing significant color. The slopes, as viewed from the Drive and the overlooks up north, are becoming more thrilling as the hues descend into the Shenandoah Valley to the west and into the Virginia Piedmont to the east. Dogwoods have turned garnet and wine red, and maples glow fiery orange-red.
In the Central District of the park there has been some loss of color because of rain and strong winds; some of the trees have already lost their leaves at these higher elevations. Virginia creeper continues to blaze dark scarlet, though, "burning" from the trunks of the trees it has climbed and wound itself around, and along and over the Skyline Drive's rock walls.
In the south - from Swift Run Gap (mile 65.5) toward the southern terminus of the park at Rockfish Gap (mile 105) - catch the citrus yellows and buttery golden shades of hickories and birches, and the kaleidoscopic ashes' purples, bronzes and egg-yolk golds. Poison ivy vines, sassafras, and sumac continue to show off their ever-ripening tropical fruit tones. Asters - moony lavender and delicate white - and saffron-colored goldenrods are still blooming and vivid throughout Shenandoah.
Truly, the Shenandoah National Park autumn is a treat, offering an intriguing palette of color for visitors who come its way - a veritable ice cream sundae of colors!
We have some helpful hints for leaf peeping and enjoying fall to the fullest in Shenandoah. "For your viewing pleasure":
· Use polarized lenses when you're photographing, or just viewing, the leaves.
(Polarized sunglasses are easy to come by.)
· Face northeast, so the sun is at your back.
· Remember that late in the afternoon, the sun will be the warmest and provide the best viewing light.
· Also remember that overcast skies provide leaves with better color absorption.
This fall color report will be updated once a week through the month of October, so visit us next week to see what's happening color-wise in Shenandoah National Park.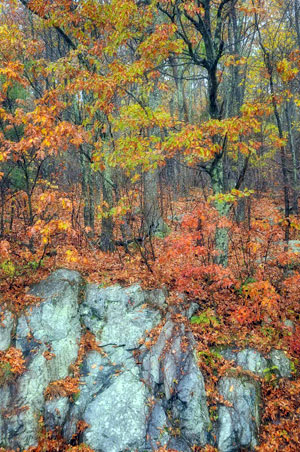 NPS/Ed Knepley
This is the Fall Color Report for Shenandoah National Park for the week ending October 5, 2012.
Fall color in Shenandoah National Park overall is currently at 50% to 60%. Color arrived earlier than usual this year, and so the peak of color is likely to occur in the second week in October, which would put peak weekend at its usual Columbus Day Weekend spot - this year, Friday, October 5, through Monday, October 8. Not surprisingly, Columbus Day Weekend has traditionally been Shenandoah's busiest weekend of the year, and this year will be no exception.
Big Meadows' summer carpet of green and gold has been positively saturated with the glowing burgundy of the blueberry shrubs' leaves. It looks like someone poured a nebuchadnezzar of Pinot Noir over the whole 130 acres of the Meadow -- even more dramatic than last week! And already, in early October, the oaks in the higher elevations of the Central District are donning their russet and golden robes.
A big contributor to fall color in the park this week is coming from sassafras trees. Their mitten-shaped leaves' color currently ranges from still green in a few places - especially in the North and South Districts - to the more common stunning paprika shade, and every conceivable color in between. You find great big splashes of over-dyed color - mostly bright and dark scarlets and tangerine and burnt oranges - in maples, Virginia Creepers, poison ivy, and dogwoods - but there is still an abundance of the "40 shades of green" this park is famous for, especially in the South District (from Swift Run Gap south to Rockfish Gap). You will also find golden yellows and lemon yellows, on hickories, birches, and dying-back milkweeds and other herbaceous plants that line the Drive. But here and there, as you venture around a curve, you will find whole hillsides that look like a big bowl of mangoes - a few bright greens, but more of Crayola marigolds, rosy reds, and Day-Glo oranges. Maples are blazing, especially in the park's Central District. Ash trees turn very unusual shades of bronze-purple, and they're not holding back this year - they are beautiful this week, especially at higher elevations. Gum trees' leaves are treating viewers with Christmas-y hues of bright green and vermillion - on the same tree! One ranger put it put it nicely when she reported about the South District: "Creeping vines are accenting stone walls and rock faces with vibrant reds. They're even lending a helping hand to evergreens… .There are…even trees showing the full spectrum of fall within themselves - browns, then oranges and yellows, top to bottom. From Brown Mountain Overlook [looking west from just north of mile 77 on the Skyline Drive], the color fire has begun to spread."
The ferns that line the Skyline Drive have started their color descent early this year, too, so you will find moody golds and spiced cider browns in the Park's ferns already.
The wildflowers of summer have been replaced with those of fall - lavender and white-lace asters and all sorts of goldenrods, mostly - which lend your drive or hike through Shenandoah a more contemplative palette. And there are some amazing witch hazels in flower, in the Big Meadows area especially - their shabby-chic yellow ragged flowers as pretty as any summer wildflower you've ever seen.
This fall color report will be updated once a week through October, so check back next week to see what's happening in the Shenandoah National Park palette.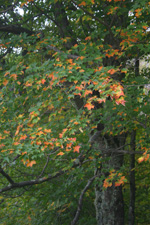 NPS/Bob Kuhns
This is the fall color report for Shenandoah National Park for the week ending September 28, 2012
Fall has arrived in Shenandoah National Park! Traditionally the peak of color arrives in the second and third weeks of October, but this year the fall colors are making an earlier-than-usual appearance.
This is a great year for fruits of all types, and meandering along Skyline Drive this week will reveal to you apple trees loaded with red and green fruit, spilling their windfall on the forest floor below. Hawthorns, hollies, and dogwoods are displaying their bright red berries. Only about 20% of the trees and shrubs have put on their fall colors, but there are already big touches of drama here and there in the Park: neon-red maples; sumacs, with their tropical-looking leaves brightening to spring green right before they turn every color in the Froot Loops box; Virginia creeper, which turns the most luscious scarlet; even poison ivy, which this year is making quite a scene in its blazing oranges and reds. Green is a color, too, and so the four-fifths of the foliage that have not yet begun to change provide a lovely backdrop for the cider- and cinnamon-colored beech trees, dying ferns, and grasses that line the Skyline Drive. The golden-yellow birches and hickories stand out against the still-green evergreens and apples.
The central part of the Park has the highest elevations, and because fall creeps down the mountain, the Central District is the most colorful in these last days of September. Here near Skyland Resort and Big Meadows you'll find the startling and subtle reds of gum trees, pokeweeds, and sumac berries. Maples are already starting to turn their neon shade, and even the oaks - usually later in the season to turn their more subtle fall colors - are progressing nicely. Hickories offer their golden yellows, as do the tulip trees. In the Big Meadow, as in other parts of the Park, fall wildflowers and grasses are putting on a show: citrus-colored goldenrods, asters the colors of moonlight and stars, and bronze grasses. The most stunning and visible aspect of Big Meadows, at least as concerns autumn, is the seductive scarlet of the blueberry bushes' leaves, which are this year making the whole Meadow blaze crimson! The Meadow is absolutely stunning. The leaves of milkweeds and dogbanes are turning from green to golden and speckling the hillsides in sunny shades. Even the dried seed heads and mature grasses along the Drive provide the spice tones we've come to love about autumn in these mountains.
The southern part of the Park is rockier and traditionally drier, but this week the colors there are quite nice, and the crowds - as always - slimmer, so a drive from milepost 65 to the southern terminus at Waynesboro will reward you with every shade of yellow dotted with a bright red maple or Virginia creeper here and there, situated against backdrops of rock and stone. A drive through the Park's North District will still show you much green, but you'll also find more dogwoods with their burgundy leaves - some brilliant but most muted - and orange-red berries.
Color doesn't just come from trees, flowers, and plants, but also in the form of Shenandoah's wildlife: the white-tailed deer coats are turning to dark gray from their summer nutmeg-y brown; black bears forage for this year's bounty crop of acorns and other nuts and fruits as they prepare for a long winter sleep; hawks and vultures soar overhead on the still-warm rising air from the Valley and the Piedmont below. Skies will be bluer now than in the summer, so expect less haze as temperatures drop.
This fall color report will be updated once a week through the month of October, so check back next week to see how things are progressing.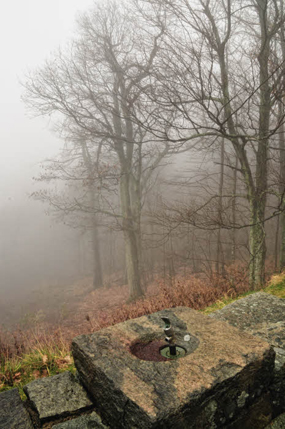 NPS/Ed Knepley
November 4, 2011
A wet heavy snow blanketed the park this past weekend causing many more leaves to fall, branches to snap, and even some trees to fall. The remaining color will be found in the lowest elevations of the park in the north and south districts. The weather forecast for this weekend is bright and sunny with highs in the 50s, so the weather is perfect for viewing lingering leaves in the park. Trees above approximately 2,000 feet have lost most, if not all, of their leaves.
Fall color in the park has turned to subtle shades of mostly browns and golds. Splashes of gold color continue to be seen along Skyline Drive in the many small saplings along the bank including sumac, oaks, locust, and sassafras. The trees offering the most color this week include gold tulip trees, hickories, and walnuts and various species of our brown and deep tan oaks. Soft green pines distinguish themselves against the deciduous trees and the snow that remains on the ground in some areas. Mountain laurel shrubs are easily seen throughout the woods in contrast to the white snow. The contrast of the remaining leaves, the soft evergreens, and the snow exude a dreamlike quality. Be sure to bring your camera this weekend to capture some outstanding scenes.
Wildflowers have gone to seed. Some milkweed seed pods still cling to their stalks which stand straight and tall like dark centurions protecting their white cottony stashes concealing dark brown seeds. Vine-like virgin's bower drape their silvery-white trellises over small shrubs and saplings still harboring their dark brown seeds.
As you drive along the crest of the ridge this weekend, you may see still-melting snow, especially on the east side of Skyline Drive. Hiking trails on the east side of the park are apt to be more wet than those on the west side. Trails in higher elevations may still be slushy. Wet leaves may make some trails slippery.
Be on the lookout this week for our normally shy American black bears. This time of the year they are most often seen either crossing Skyline Drive or balanced high in the tops of sturdy oak trees gathering acorns. Bears are on the move eating as much food as they can. They will build up a four-inch layer of fat which allows them to survive as they sleep the winter months away. Woodland creatures and plants alike prepare for their winter slumber, soon to come.
The park's seventy-five overlooks offer marvelous views of the Shenandoah Valley. Although peak color occurred last week in the Shenandoah Valley, scenic views remain; picturesque green patchwork fields surrounded by browns and golds lay on the valley floor. Beyond the valley looking westward from Skyline Drive, view deep blue mountains and eastward, the wide Piedmont Plateau. Take the time to enjoy a stunning Shenandoah sunrise or sunset and create a personal, unforgettable moment in time.
Make your destination a journey! Come visit Shenandoah National Park. It's natural beauty and inspiration is yours to enjoy.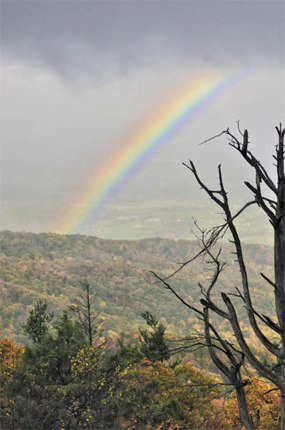 NPS/Ed Knepley
October 28, 2011
There's a change in the weather! The previous forecast of "bright and sunny with cool temperatures" has given way to "Winter Storm Watch!" Click here for details.
As for the leaves, once the snow melts there may still be some color, particularly in the lower elevations in the north and south districts of the park. However, leaves continue to fall and their descent will most certainly be hastened by the snow.
The color that remains will be primarily rich browns and deep golds in the lower elevations of the park. An occasional bright red maple may be seen along with an orange-red sugar maple. The trees offering the most color include gold tulip trees, hickories, and walnuts and various species of our reddish-brown and deep tan oaks. Soft verdant green pines prominently display themselves now that many leaves have fallen; they contrast against the deciduous trees. Still-green ferns and small but colorful locust, sumac, sassafras, and oak saplings, with their sprinklings of gold, yellow, and red, border the gray ribbon of Skyline Drive.
A few purple asters still bloom along the Drive, but many wildflowers have gone to seed. Delicate silvery- white trellises of virgin's bower embrace their dark brown seeds. Opened milkweed seed pods look like perched puffs of cotton waiting for the wind to blow and scattered their seeds.
As you drive along the ridge top, you can peer much deeper into the woods than before, as leaves no longer obstruct your view. Throughout the forest, stands of the evergreen mountain laurel are more easily seen. Massive gray rocks protrude from the ground. Fallen logs, perhaps downed by strong winds or ice storms of years past, lay on the forest floor. Some rocks and trees are covered with lichen, an organism consisting of fungus and algae. Light and dark grays, light greens, and blue greens of the lichen dot the surfaces of tree trunks and rocks. Logs and rocks provide shelter for some of the woodland creatures of the park. Although not a true hibernator, an American black bear may choose a hollow log to sleep in or a rock outcrop to stuff itself underneath for a cold weather nap.
The park's overlooks offer marvelous views of the beautiful Shenandoah Valley. Peak color blankets the valley floor. In some areas, streaks of gold clamber up mountainsides toward the park. Some valley hills boast an array of reds, oranges, yellows, golds, and greens. Picturesque farmlands with rolling hills and flat green squares of open fields fill the valley floor. Beyond, look westward from Skyline Drive toward deep blue mountains and eastward toward the sweeping Piedmont Plateau.
Take a break from driving. Take a short walk through the woods, perhaps along the Appalachian Trail. Feel the chilly mountain air on your cheeks. See nature's beautiful color palette in the fallen leaves that carpet the forest floor. Hear the rustle and crackling of crisp autumn leaves under your feet as you stroll through the trees. There's no season like autumn in Shenandoah National Park! Make your destination a journey! Let the park's natural beauty touch your heart.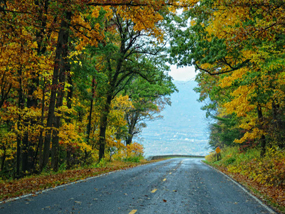 NPS/Ed Knepley
October 21, 2011
Autumn leaves are falling due to recent rains and gusty winds, but the weather outlook for this weekend offers crisp cool days perfect for viewing in Shenandoah National Park. Most of the color is currently in the north and south districts of the park, with an estimated 90% color change. Peak color occurred just a few days ago in the park's highest elevations along the 34-mile stretch of Skyline Drive between Thornton Gap (Route 211) and Swift Run Gap (Route 33). This central district of the park is home to Shenandoah's highest peaks where many leaves have fallen. Trees above approximately 3,300 feet have lost most of their leaves. The color that remains includes fabulous golds and yellows of birches and sugar maples and beautiful shades of browns and tans of our mighty oaks. Most of the beautiful deep burgundies and purple jewel tones of Big Meadows' berry bushes have peaked, but an occasional splash of color catches your eye when the sun sweeps over the meadow and showcases a patch of low-bush blueberries.
Golds, yellows, and reds remain the prevalent colors in the lower elevations of the park. Red maple, scarlet oak, black gum, sweet gum, and sourwood trees show off their reds this week, along with the tall, slender sumac. The three-leaved poison ivy and five-leaved Virginia creeper outline tree trunks with their deep reds and burgundies. Once-red sassafras and wild cherry are becoming yellow in company with the orange-reds of the sugar maples. Yellow and gold tulip trees, hickories, striped maple, and birches paint the mountainsides in rich, glorious color. Brown- colored Fraser magnolias, reddish-brown red oaks, and orange-brown chestnut and white oaks provide the perfect backdrop for other trees to display their brightly contrasting colors.
Beautiful colors of fallen autumn leaves carpet the forest floor as you walk along some of the park's 500 miles of trails, perhaps to a peak or a waterfall. As you hike, keep your eyes open for blooming fall wildflowers such as blue or violet gentian, blue southern harebell, yellow autumn sneezeweed, and white ladies' tresses, virgin's bower, and silverrod. Witch hazel shrubs, easily identified this time of year by their tiny witch hat-shaped galls on some leaf surfaces, display their tiny twisted yellow flowers and their golden brown seed pods. In the fall, these seed pods burst open and with an audible "Swoosh!" violently release their seeds up to 15 feet away.
Purple and white asters and yellow goldenrods remain the most commonly seen wildflowers along Skyline Drive. Scattered throughout the park, dark gray milkweed seed pods cling to their tall dark brown stalks. Open seed pods assisted by the wind, release their seeds. Dancing on the air like tiny white fairies, milkweed seeds eventually come to rest on the ground and overwinter to grow into new milkweed plants to await next season's hungry Monarch caterpillars.
The views of the valley from Skyline Drive are simply breathtaking this week! Color bursts from the hollows and valleys with a mix of reds, oranges, golds, yellows, and greens. Seventy-five overlooks offer fabulous viewing opportunities from the Drive and give you a break to relax from driving, to stretch, and to breathe in Shenandoah's cool mountain air. East-facing overlooks present views of the impressive Piedmont Plateau. Look from westward overlooks to see sweeping views of blue and purple mountains as far as the eye can see. Peer into the valley below to see patchwork squares of lush green fields and farmlands. As John Muir said "The mountains are calling and I must go." Make your destination a journey! Visit Shenandoah National Park where its awe-inspiring beauty and serenity are wonders to behold!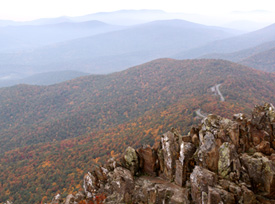 NPS/Brett Raeburn
October 14, 2011
Don't let the recent rain deter you from visiting Shenandoah National Park this week! Many leaves have fallen due to the rain, but many remain and color is quickly approaching peak in Shenandoah's highest elevations. Daily changes in autumn leaf color continue as mid-October arrives. The color change in the Big Meadows area is currently estimated at 90%. At Milepost 51, Big Meadows lies in the middle of the park at a 3,500-foot elevation. The lower elevations are currently seeing an estimated 80% color change.
Although cooler temperatures are forecasted for Saturday, this weekend holds the promise of sunny, clear skies making your views outstanding! Across the mountains, an artist's palette awaits you with deep vivid colors of yellow, gold, orange, brown, rust, red, maroon and every color in-between! In the lower elevations, bright color peeps out from underneath the few remaining green leaves. Where green once dominated the mountainsides, color abounds!
As you travel along Skyline Drive, you'll see rock outcroppings along the bank bursting with color! Brilliant crimson reds of Virginia Creeper cascade over the gray rock. Soft green mosses and golden tufts of grasses contribute to this stunning contrast. Along the bank, small sassafras saplings, distinguished by their three different leaf shapes, offer breathtaking splashes of reds and butter yellows. Golden brown and dark brown ferns, beautiful purple and white asters, and bright purple spotted knapweed dot the bank side. Sumac offers a radiant show of yellows and reds.
Scattered throughout the park, milkweed seed pods stand out on their tall dark stalks. The slightest wind causes open pods to release their seeds which float like miniature parachutes through the air. Purple thistle has gone to seed and awaits hungry seed-eating birds such as finches, juncos, and mourning doves. Big Meadows offers a spectacular revelry of deep reds and maroons of its low-bush blueberry, deerberry, and maleberry bushes.
This week, you'll be driving through a profusion of color! Hickory, walnut, tulip poplar, white oak, birch, American beech, elm, sycamore and American chestnut trees exhibit their golds and yellows. Bright crimson and deep maroon of five-leaved Virginia Creeper and three-leaved poison ivy wrap around some trees and display as red arches over Skyline Drive. Red and black oaks offer russet reds, rusts, and light browns. Red sourwoods, yellow sugar maples, orange-colored maples, and the favored red maples with their pops of fiery red provide a fabulous show this week. Clusters of mountain ash berries remain an exuberant rich red.
As you travel Skyline Drive, take the time to stop at several of the park's seventy-five overlooks. Beauty reveals itself not only in the grand mountains, but also in the lush valley below. Hillsides of gold funnel into magnificent views of Virginia's Piedmont on the east side of the park. Amid the autumn leaves looking westward near the base of the mountain and beyond, you'll see picturesque patchworks of green fields, farmlands, and small communities. In the northern end of the park, you might be able to see the glistening surface of the Shenandoah River as it bends its way along the base of Massanutten Mountain. Fall color is prevalent in the valley below.
Make your destination a journey! Come to Shenandoah National Park this week to see spectacular fall beauty in all of its glory! It's here waiting…just for you!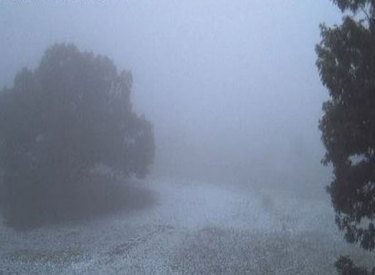 October 7, 2011
The cold front that moved in this past weekend has certainly impacted this week's fall color in Shenandoah National Park! Our highest peaks experienced snowfall last weekend but with no accumulation. Cold daytime and even colder nighttime temperatures caused daily visible changes in the fall color show. Some leaves have begun to fall, but many remain on the trees still waiting to change. The cold front passed through this week and brought in warmer temperatures and clearer skies more compatible for leaf-peeping. Although much green still abounds, we estimate Shenandoah's color change at about 30% this week in the higher elevations and about 20% in the lower elevations.
Golds and yellows are certainly making a statement this week! Hickory and walnut trees with their compound leaves stand out with beautiful shades of gold, along with our sugar maples and white oaks. Grape-leaf-shaped yellow leaves of the striped maple are putting on a show against their green and white-striped bark. The heart-shaped leaves of redbud trees shine a lemony-yellow along with the tall and straight tulip poplar. Currently-blooming witch-hazel is turning a golden yellow with little witch-hat-shaped insect galls on the surface of many of their leaves. Sycamores and American chestnuts also join this colorful parade.
Many more brilliant red maples are appearing on the scene especially in higher elevations in the park, joined by colorful sweet gum trees and deep maroon-colored dogwoods. Five-leaved Virginia creeper and three-leaved poison ivy vines show as bursts of bright red streamers as they wind their way up tree trunks. The contrast of colors is fabulous! Although not at peak color, Big Meadows' low-bush blueberry, deerberry, and maleberry bushes offer shades of deep burgundy and maroon, all framed by the meadow's soft brown native grasses. Mountain ash currently boasts clusters of gloriously rich red berries which stand out against the trees' deep green leaves.
Purple and yellow fall wildflowers dot open areas, meadows, and the road bank along Skyline Drive. Sunflowers, goldenrod, purple and white wood asters, boneset, purple thistle, fall phlox, Appalachian ironweed, and common yarrow still bloom throughout the park. Indian tobacco, stiff gentian, jewelweed, black-eyed Susan, crown vetch, and wingstem are peaking in lower elevations of the park. Common milkweed and many species of ferns continue to turn to soft yellows and browns.
This week, when you're looking down from Skyline Drive's many overlooks into the hollows and valleys below, you'll see occasional dots of color amid oceans of green. Fall color peak is nearing in the park; it's just a matter of time. Make your destination a journey! We invite you to experience the beauty and peace of Shenandoah National Park!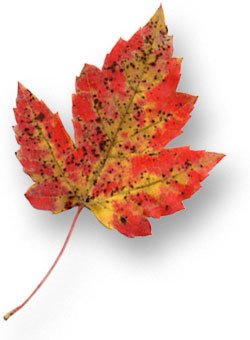 September 30, 2011
Fall is certainly in the air here in the park! Cool evening and daytime temperatures are becoming more frequent and days are becoming just a bit shorter as October quickly approaches. Although we estimate Shenandoah's color at only about 15%, those cooler temperatures and shorter days with less sunlight will directly impact our fall color show.
If you visit the park this week, you'll see beautiful fall wildflowers approaching their peak. Several species of goldenrod, purple asters, white wood asters, and sunshine-yellow sunflowers line beautiful Skyline Drive. Brightly colored purple thistle blooms beckon a variety of butterflies, among them the large, bold yellow and black swallowtails and the brilliant Monarchs dressed in their orange and black glory. Patches of crown vetch and wingstem wildflowers are topped with tiny bursts of deep gold which display beautifully against their tall and slender green stalks. Common milkweed leaves are turning a beautiful soft yellow and are abundant along the Drive and in open fields and meadows. Many species of ferns abound in the park and one of the most common you'll see along your way is the hay-scented fern which is currently displaying a mixture of yellows, browns, and greens.
Dogwood trees boast their deep burgundies while some high branches of our abundant majestic red oaks are just beginning to turn a soft restful shade of light brown. Standing tall and straight, tulip poplars commonly seen along your way are starting to reveal their yellow-gold crowns. Every so often, you'll round a curve and see a dazzling burst of the rich red color of small red maple trees. Locust leaf miners, tiny native insects that feed on the leaves of several different species of locust trees, have been working hard to change the green compound leaves of the locust to a lovely light brown network of netting, filling up their tummies with their favorite food. Stop at one of our seventy-five overlooks to take a closer look at this tiny natural marvel's work. Another plant with compound leaves often seen in the park in disturbed areas such as the road banks along the Drive is sumac which always shows beautifully this time of year. Right now, many of them are beginning to turn a glorious yellow. Any color that you see will stand out against the soft deep greens of the white pine with its stately whorled branches.
Color doesn't just come from trees, flowers, and plants, but also in the form of Shenandoah National Park's wildlife: the white-tailed deer coats are turning to dark gray from their summer brown; black bears forage for this year's bounty crop of acorns and other nuts, roots, and berries as they prepare for a long winter sleep; hawks and vultures soar overhead on the still-warm rising air from the valley and the piedmont below.
This week, views from the Skyline Drive's overlooks will offer seas of green in the hollows and valleys below. At this time, only a few leaves have fallen from the trees on the highest peaks along Skyline Drive. "When will the fall color peak occur?" you may ask. Only time will tell! There's still much green left and that means much more fabulous fall color to come! Make your destination a journey! Come visit Shenandoah National Park and see the beauty and the wonder it holds just for you!