Vehicle Fuel Available at Big Meadows ONLY!

Vehicle fuel is only available at Big Meadows (mile 52). Gas service has been discontinued at the Loft and Elkwallow areas.
Shenandoah's Fall Color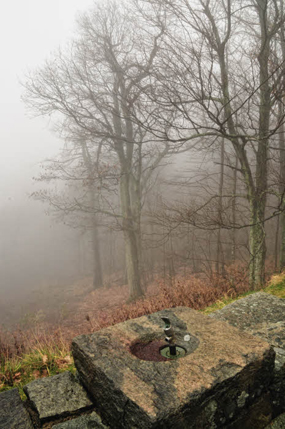 NPS/Ed Knepley
November 4, 2011
A wet heavy snow blanketed the park this past weekend causing many more leaves to fall, branches to snap, and even some trees to fall. The remaining color will be found in the lowest elevations of the park in the north and south districts. The weather forecast for this weekend is bright and sunny with highs in the 50s, so the weather is perfect for viewing lingering leaves in the park. Trees above approximately 2,000 feet have lost most, if not all, of their leaves.
Fall color in the park has turned to subtle shades of mostly browns and golds. Splashes of gold color continue to be seen along Skyline Drive in the many small saplings along the bank including sumac, oaks, locust, and sassafras. The trees offering the most color this week include gold tulip trees, hickories, and walnuts and various species of our brown and deep tan oaks. Soft green pines distinguish themselves against the deciduous trees and the snow that remains on the ground in some areas. Mountain laurel shrubs are easily seen throughout the woods in contrast to the white snow. The contrast of the remaining leaves, the soft evergreens, and the snow exude a dreamlike quality. Be sure to bring your camera this weekend to capture some outstanding scenes.
Wildflowers have gone to seed. Some milkweed seed pods still cling to their stalks which stand straight and tall like dark centurions protecting their white cottony stashes concealing dark brown seeds. Vine-like virgin's bower drape their silvery-white trellises over small shrubs and saplings still harboring their dark brown seeds.
As you drive along the crest of the ridge this weekend, you may see still-melting snow, especially on the east side of Skyline Drive. Hiking trails on the east side of the park are apt to be more wet than those on the west side. Trails in higher elevations may still be slushy. Wet leaves may make some trails slippery.
Be on the lookout this week for our normally shy American black bears. This time of the year they are most often seen either crossing Skyline Drive or balanced high in the tops of sturdy oak trees gathering acorns. Bears are on the move eating as much food as they can. They will build up a four-inch layer of fat which allows them to survive as they sleep the winter months away. Woodland creatures and plants alike prepare for their winter slumber, soon to come.
The park's seventy-five overlooks offer marvelous views of the Shenandoah Valley. Although peak color occurred last week in the Shenandoah Valley, scenic views remain; picturesque green patchwork fields surrounded by browns and golds lay on the valley floor. Beyond the valley looking westward from Skyline Drive, view deep blue mountains and eastward, the wide Piedmont Plateau. Take the time to enjoy a stunning Shenandoah sunrise or sunset and create a personal, unforgettable moment in time.
Make your destination a journey! Come visit Shenandoah National Park. It's natural beauty and inspiration is yours to enjoy.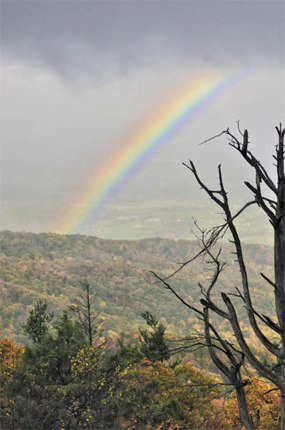 NPS/Ed Knepley
October 28, 2011
There's a change in the weather! The previous forecast of "bright and sunny with cool temperatures" has given way to "Winter Storm Watch!" Click here for details.
As for the leaves, once the snow melts there may still be some color, particularly in the lower elevations in the north and south districts of the park. However, leaves continue to fall and their descent will most certainly be hastened by the snow.
The color that remains will be primarily rich browns and deep golds in the lower elevations of the park. An occasional bright red maple may be seen along with an orange-red sugar maple. The trees offering the most color include gold tulip trees, hickories, and walnuts and various species of our reddish-brown and deep tan oaks. Soft verdant green pines prominently display themselves now that many leaves have fallen; they contrast against the deciduous trees. Still-green ferns and small but colorful locust, sumac, sassafras, and oak saplings, with their sprinklings of gold, yellow, and red, border the gray ribbon of Skyline Drive.
A few purple asters still bloom along the Drive, but many wildflowers have gone to seed. Delicate silvery- white trellises of virgin's bower embrace their dark brown seeds. Opened milkweed seed pods look like perched puffs of cotton waiting for the wind to blow and scattered their seeds.
As you drive along the ridge top, you can peer much deeper into the woods than before, as leaves no longer obstruct your view. Throughout the forest, stands of the evergreen mountain laurel are more easily seen. Massive gray rocks protrude from the ground. Fallen logs, perhaps downed by strong winds or ice storms of years past, lay on the forest floor. Some rocks and trees are covered with lichen, an organism consisting of fungus and algae. Light and dark grays, light greens, and blue greens of the lichen dot the surfaces of tree trunks and rocks. Logs and rocks provide shelter for some of the woodland creatures of the park. Although not a true hibernator, an American black bear may choose a hollow log to sleep in or a rock outcrop to stuff itself underneath for a cold weather nap.
The park's overlooks offer marvelous views of the beautiful Shenandoah Valley. Peak color blankets the valley floor. In some areas, streaks of gold clamber up mountainsides toward the park. Some valley hills boast an array of reds, oranges, yellows, golds, and greens. Picturesque farmlands with rolling hills and flat green squares of open fields fill the valley floor. Beyond, look westward from Skyline Drive toward deep blue mountains and eastward toward the sweeping Piedmont Plateau.
Take a break from driving. Take a short walk through the woods, perhaps along the Appalachian Trail. Feel the chilly mountain air on your cheeks. See nature's beautiful color palette in the fallen leaves that carpet the forest floor. Hear the rustle and crackling of crisp autumn leaves under your feet as you stroll through the trees. There's no season like autumn in Shenandoah National Park! Make your destination a journey! Let the park's natural beauty touch your heart.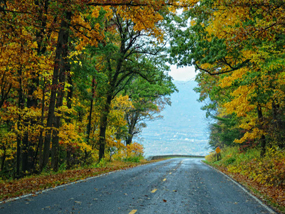 NPS/Ed Knepley
October 21, 2011
Autumn leaves are falling due to recent rains and gusty winds, but the weather outlook for this weekend offers crisp cool days perfect for viewing in Shenandoah National Park. Most of the color is currently in the north and south districts of the park, with an estimated 90% color change. Peak color occurred just a few days ago in the park's highest elevations along the 34-mile stretch of Skyline Drive between Thornton Gap (Route 211) and Swift Run Gap (Route 33). This central district of the park is home to Shenandoah's highest peaks where many leaves have fallen. Trees above approximately 3,300 feet have lost most of their leaves. The color that remains includes fabulous golds and yellows of birches and sugar maples and beautiful shades of browns and tans of our mighty oaks. Most of the beautiful deep burgundies and purple jewel tones of Big Meadows' berry bushes have peaked, but an occasional splash of color catches your eye when the sun sweeps over the meadow and showcases a patch of low-bush blueberries.
Golds, yellows, and reds remain the prevalent colors in the lower elevations of the park. Red maple, scarlet oak, black gum, sweet gum, and sourwood trees show off their reds this week, along with the tall, slender sumac. The three-leaved poison ivy and five-leaved Virginia creeper outline tree trunks with their deep reds and burgundies. Once-red sassafras and wild cherry are becoming yellow in company with the orange-reds of the sugar maples. Yellow and gold tulip trees, hickories, striped maple, and birches paint the mountainsides in rich, glorious color. Brown- colored Fraser magnolias, reddish-brown red oaks, and orange-brown chestnut and white oaks provide the perfect backdrop for other trees to display their brightly contrasting colors.
Beautiful colors of fallen autumn leaves carpet the forest floor as you walk along some of the park's 500 miles of trails, perhaps to a peak or a waterfall. As you hike, keep your eyes open for blooming fall wildflowers such as blue or violet gentian, blue southern harebell, yellow autumn sneezeweed, and white ladies' tresses, virgin's bower, and silverrod. Witch hazel shrubs, easily identified this time of year by their tiny witch hat-shaped galls on some leaf surfaces, display their tiny twisted yellow flowers and their golden brown seed pods. In the fall, these seed pods burst open and with an audible "Swoosh!" violently release their seeds up to 15 feet away.
Purple and white asters and yellow goldenrods remain the most commonly seen wildflowers along Skyline Drive. Scattered throughout the park, dark gray milkweed seed pods cling to their tall dark brown stalks. Open seed pods assisted by the wind, release their seeds. Dancing on the air like tiny white fairies, milkweed seeds eventually come to rest on the ground and overwinter to grow into new milkweed plants to await next season's hungry Monarch caterpillars.
The views of the valley from Skyline Drive are simply breathtaking this week! Color bursts from the hollows and valleys with a mix of reds, oranges, golds, yellows, and greens. Seventy-five overlooks offer fabulous viewing opportunities from the Drive and give you a break to relax from driving, to stretch, and to breathe in Shenandoah's cool mountain air. East-facing overlooks present views of the impressive Piedmont Plateau. Look from westward overlooks to see sweeping views of blue and purple mountains as far as the eye can see. Peer into the valley below to see patchwork squares of lush green fields and farmlands. As John Muir said "The mountains are calling and I must go." Make your destination a journey! Visit Shenandoah National Park where its awe-inspiring beauty and serenity are wonders to behold!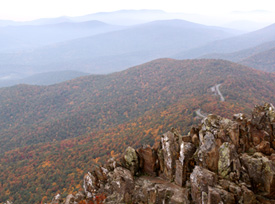 NPS/Brett Raeburn
October 14, 2011
Don't let the recent rain deter you from visiting Shenandoah National Park this week! Many leaves have fallen due to the rain, but many remain and color is quickly approaching peak in Shenandoah's highest elevations. Daily changes in autumn leaf color continue as mid-October arrives. The color change in the Big Meadows area is currently estimated at 90%. At Milepost 51, Big Meadows lies in the middle of the park at a 3,500-foot elevation. The lower elevations are currently seeing an estimated 80% color change.
Although cooler temperatures are forecasted for Saturday, this weekend holds the promise of sunny, clear skies making your views outstanding! Across the mountains, an artist's palette awaits you with deep vivid colors of yellow, gold, orange, brown, rust, red, maroon and every color in-between! In the lower elevations, bright color peeps out from underneath the few remaining green leaves. Where green once dominated the mountainsides, color abounds!
As you travel along Skyline Drive, you'll see rock outcroppings along the bank bursting with color! Brilliant crimson reds of Virginia Creeper cascade over the gray rock. Soft green mosses and golden tufts of grasses contribute to this stunning contrast. Along the bank, small sassafras saplings, distinguished by their three different leaf shapes, offer breathtaking splashes of reds and butter yellows. Golden brown and dark brown ferns, beautiful purple and white asters, and bright purple spotted knapweed dot the bank side. Sumac offers a radiant show of yellows and reds.
Scattered throughout the park, milkweed seed pods stand out on their tall dark stalks. The slightest wind causes open pods to release their seeds which float like miniature parachutes through the air. Purple thistle has gone to seed and awaits hungry seed-eating birds such as finches, juncos, and mourning doves. Big Meadows offers a spectacular revelry of deep reds and maroons of its low-bush blueberry, deerberry, and maleberry bushes.
This week, you'll be driving through a profusion of color! Hickory, walnut, tulip poplar, white oak, birch, American beech, elm, sycamore and American chestnut trees exhibit their golds and yellows. Bright crimson and deep maroon of five-leaved Virginia Creeper and three-leaved poison ivy wrap around some trees and display as red arches over Skyline Drive. Red and black oaks offer russet reds, rusts, and light browns. Red sourwoods, yellow sugar maples, orange-colored maples, and the favored red maples with their pops of fiery red provide a fabulous show this week. Clusters of mountain ash berries remain an exuberant rich red.
As you travel Skyline Drive, take the time to stop at several of the park's seventy-five overlooks. Beauty reveals itself not only in the grand mountains, but also in the lush valley below. Hillsides of gold funnel into magnificent views of Virginia's Piedmont on the east side of the park. Amid the autumn leaves looking westward near the base of the mountain and beyond, you'll see picturesque patchworks of green fields, farmlands, and small communities. In the northern end of the park, you might be able to see the glistening surface of the Shenandoah River as it bends its way along the base of Massanutten Mountain. Fall color is prevalent in the valley below.
Make your destination a journey! Come to Shenandoah National Park this week to see spectacular fall beauty in all of its glory! It's here waiting…just for you!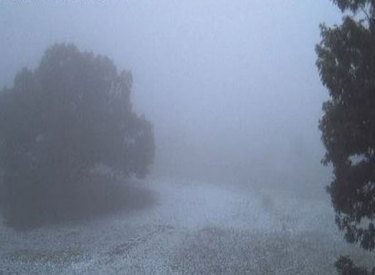 October 7, 2011
The cold front that moved in this past weekend has certainly impacted this week's fall color in Shenandoah National Park! Our highest peaks experienced snowfall last weekend but with no accumulation. Cold daytime and even colder nighttime temperatures caused daily visible changes in the fall color show. Some leaves have begun to fall, but many remain on the trees still waiting to change. The cold front passed through this week and brought in warmer temperatures and clearer skies more compatible for leaf-peeping. Although much green still abounds, we estimate Shenandoah's color change at about 30% this week in the higher elevations and about 20% in the lower elevations.
Golds and yellows are certainly making a statement this week! Hickory and walnut trees with their compound leaves stand out with beautiful shades of gold, along with our sugar maples and white oaks. Grape-leaf-shaped yellow leaves of the striped maple are putting on a show against their green and white-striped bark. The heart-shaped leaves of redbud trees shine a lemony-yellow along with the tall and straight tulip poplar. Currently-blooming witch-hazel is turning a golden yellow with little witch-hat-shaped insect galls on the surface of many of their leaves. Sycamores and American chestnuts also join this colorful parade.
Many more brilliant red maples are appearing on the scene especially in higher elevations in the park, joined by colorful sweet gum trees and deep maroon-colored dogwoods. Five-leaved Virginia creeper and three-leaved poison ivy vines show as bursts of bright red streamers as they wind their way up tree trunks. The contrast of colors is fabulous! Although not at peak color, Big Meadows' low-bush blueberry, deerberry, and maleberry bushes offer shades of deep burgundy and maroon, all framed by the meadow's soft brown native grasses. Mountain ash currently boasts clusters of gloriously rich red berries which stand out against the trees' deep green leaves.
Purple and yellow fall wildflowers dot open areas, meadows, and the road bank along Skyline Drive. Sunflowers, goldenrod, purple and white wood asters, boneset, purple thistle, fall phlox, Appalachian ironweed, and common yarrow still bloom throughout the park. Indian tobacco, stiff gentian, jewelweed, black-eyed Susan, crown vetch, and wingstem are peaking in lower elevations of the park. Common milkweed and many species of ferns continue to turn to soft yellows and browns.
This week, when you're looking down from Skyline Drive's many overlooks into the hollows and valleys below, you'll see occasional dots of color amid oceans of green. Fall color peak is nearing in the park; it's just a matter of time. Make your destination a journey! We invite you to experience the beauty and peace of Shenandoah National Park!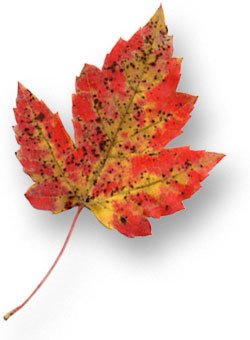 September 30, 2011
Fall is certainly in the air here in the park! Cool evening and daytime temperatures are becoming more frequent and days are becoming just a bit shorter as October quickly approaches. Although we estimate Shenandoah's color at only about 15%, those cooler temperatures and shorter days with less sunlight will directly impact our fall color show.
If you visit the park this week, you'll see beautiful fall wildflowers approaching their peak. Several species of goldenrod, purple asters, white wood asters, and sunshine-yellow sunflowers line beautiful Skyline Drive. Brightly colored purple thistle blooms beckon a variety of butterflies, among them the large, bold yellow and black swallowtails and the brilliant Monarchs dressed in their orange and black glory. Patches of crown vetch and wingstem wildflowers are topped with tiny bursts of deep gold which display beautifully against their tall and slender green stalks. Common milkweed leaves are turning a beautiful soft yellow and are abundant along the Drive and in open fields and meadows. Many species of ferns abound in the park and one of the most common you'll see along your way is the hay-scented fern which is currently displaying a mixture of yellows, browns, and greens.
Dogwood trees boast their deep burgundies while some high branches of our abundant majestic red oaks are just beginning to turn a soft restful shade of light brown. Standing tall and straight, tulip poplars commonly seen along your way are starting to reveal their yellow-gold crowns. Every so often, you'll round a curve and see a dazzling burst of the rich red color of small red maple trees. Locust leaf miners, tiny native insects that feed on the leaves of several different species of locust trees, have been working hard to change the green compound leaves of the locust to a lovely light brown network of netting, filling up their tummies with their favorite food. Stop at one of our seventy-five overlooks to take a closer look at this tiny natural marvel's work. Another plant with compound leaves often seen in the park in disturbed areas such as the road banks along the Drive is sumac which always shows beautifully this time of year. Right now, many of them are beginning to turn a glorious yellow. Any color that you see will stand out against the soft deep greens of the white pine with its stately whorled branches.
Color doesn't just come from trees, flowers, and plants, but also in the form of Shenandoah National Park's wildlife: the white-tailed deer coats are turning to dark gray from their summer brown; black bears forage for this year's bounty crop of acorns and other nuts, roots, and berries as they prepare for a long winter sleep; hawks and vultures soar overhead on the still-warm rising air from the valley and the piedmont below.
This week, views from the Skyline Drive's overlooks will offer seas of green in the hollows and valleys below. At this time, only a few leaves have fallen from the trees on the highest peaks along Skyline Drive. "When will the fall color peak occur?" you may ask. Only time will tell! There's still much green left and that means much more fabulous fall color to come! Make your destination a journey! Come visit Shenandoah National Park and see the beauty and the wonder it holds just for you!
Did You Know?

A favorite of hikers, Shenandoah National Park's Old Rag Mountain is made of billion-year-old granite.