Skyline Drive Status

For the most current Skyline Drive Status, call 540-999-3500, choose Option 1, and then Option 1. Be prepared for winter driving conditions when the Drive is open! You can also use Facebook and Twitter for updates. More »
Schedule Of Events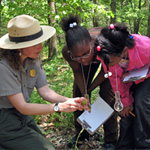 John F. Mitchell
RANGER PROGRAMS
Click here for the current Ranger Program schedule.
Make your visit to Shenandoah complete by attending a ranger-led program. Discover the many stories of Shenandoah's past, take a walk through the splendor of a unique mountain meadow, or learn about the many animals and plants that thrive in Shenandoah National Park.
Search for Events
Sorry, but there are no events between 03/10/2014 and 04/01/2014


Did You Know?

Over 340 structures in Shenandoah National Park are listed in the National Register of Historic Places because of their significance both for architecture and their contribution to understanding the broad themes of American History? More...