Schedule Of Events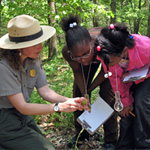 John F. Mitchell
RANGER PROGRAMS
Click here for the current Ranger Program schedule.
Make your visit to Shenandoah complete by attending a ranger-led program. Discover the many stories of Shenandoah's past, take a walk through the splendor of a unique mountain meadow, or learn about the many animals and plants that thrive in Shenandoah National Park.
Search for Events
Events Upcoming for September
Showing 12 results

 RSS Feed


Did You Know?

A favorite of hikers, Shenandoah National Park's Old Rag Mountain is made of billion-year-old granite.