Skyline Drive Status

For the most current Skyline Drive Status, call 540-999-3500, choose Option 1, and then Option 1. Be prepared for winter driving conditions when the Drive is open! You can also use Facebook and Twitter for updates. More »
Schedule Of Events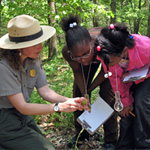 John F. Mitchell
RANGER PROGRAMS
Click here for the current Ranger Program schedule.
Make your visit to Shenandoah complete by attending a ranger-led program. Discover the many stories of Shenandoah's past, take a walk through the splendor of a unique mountain meadow, or learn about the many animals and plants that thrive in Shenandoah National Park.
Search for Events
Events Upcoming for April


Did You Know?

The 600' long Marys Rock Tunnel was completed in 1932 and the public considered it a scenic wonder. It became iconic and tunnel images were used on everything from post cards to jewelry.