Schedule Of Events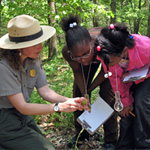 John F. Mitchell
RANGER PROGRAMS
Click here for the current Ranger Program schedule.
Make your visit to Shenandoah complete by attending a ranger-led program. Discover the many stories of Shenandoah's past, take a walk through the splendor of a unique mountain meadow, or learn about the many animals and plants that thrive in Shenandoah National Park.
Search for Events
Events Upcoming for August
Showing 4 results

 RSS Feed


Did You Know?

Shenandoah National Park may be one of the few places where you could see a spotted skunk sitting under a gray birch tree. The spotted skunk is at the northern part of its range while the gray birch is at the southern part of its range.