No credit cards currently being accepted onsite at Loft Mountain Campground

Due to technical difficulties, credit cards are not being accepted at Loft Mountain Campground as of 7/25/2014.
Schedule Of Events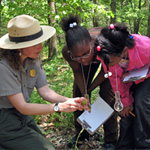 John F. Mitchell
RANGER PROGRAMS
Click here for the current Ranger Program schedule.
Make your visit to Shenandoah complete by attending a ranger-led program. Discover the many stories of Shenandoah's past, take a walk through the splendor of a unique mountain meadow, or learn about the many animals and plants that thrive in Shenandoah National Park.
Search for Events
Events Upcoming for July
Showing 1 results

 RSS Feed
Saturday, July 26, 2014

Blackberries are in season in Shenandoah. Enjoy a themed festival with food, interpretive activities and entertainment. More

Time:

11:00 AM to 5:00 AM

Location:

Skyland Resort (mile 41.7 and 42.5)

Fees:

Consessions available to purcharse


Did You Know?

Hepatica is usually the first of many native wildflowers to bloom in the spring in Shenandoah National Park. More...