Backcountry Camping - Getting a Permit
A Backcountry Camping Permit is required for all backcountry camping.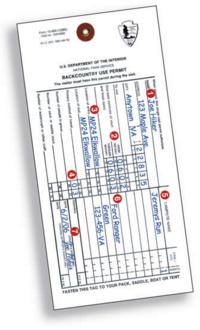 The permit can be obtained at visitor contact stations during business hours. Permits for Appalachian Trail long-distance hikers are available by self-registration on the Trail near Shenandoah National Park entry points.
If you are planning your visit well in advance (allow two full weeks), permits are also available by mail from Park Headquarters. You may download a permit application and send it to:

Shenandoah National Park
Backcountry Camping Permit
3655 U.S. Highway 211 East
Luray, VA 22835

Provide your name, phone number, complete address, entry and exit dates of trip, number in party, description of vehicle (make, model, color and tag number), and trip itinerary, including where you will park and trail areas in which you will camp.
Remember that you should have your camp set up before dark in order to avoid damaging the park resources or injuring yourself. At the park, permits will be issued only between the hours of sunrise and one hour before sunset.