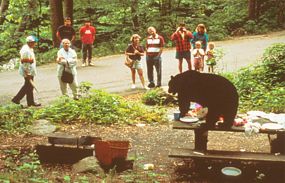 NPS Photo
One of the most popular activities in our National Parks is viewing and photographing wildlife. For some visitors, the only opportunity they have to view some species is when they are in the wild setting of a park. Others look for the opportunity to view wildlife in natural settings rather than in artificial settings found in zoos and aquariums.
Unfortunately the excitement of seeing an animal triggers behaviors by some park visitors that are unhealthy for the wildlife and that pose serious risks to the public. Things like feeding wildlife, approaching or chasing animals, or harassing wildlife are all actions that are expressly prohibited in Shenandoah National Park. Park animals are wild and therefore unpredictable and interactions with people (feeding, obtaining garbage, petting) can habituate animals which puts people and bears at risk.
Following are a few simple reminders of things you should remember when viewing or photographing wildlife:
You will find various reminders about our concerns related to wildlife protection in the park's newspaper The Overlook, in the park brochure, and at various bulletin boards throughout the park. Please help us keep the "wild" in wildlife.