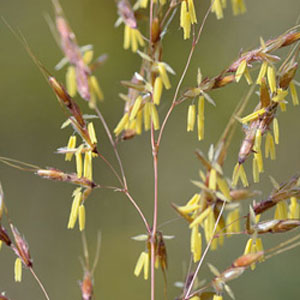 Photo courtesy of Gary Fleming VA-DCR
Many grass flowers mature in the late spring to early summer. The wind-pollinated nature of these flowers necessitates producing large quantities of pollen, making them particularly common culprits for seasonal allergies.
In Shenandoah National Park grasses can be easily viewed at Big Meadows where red top (Agrostis perennans) and tall oat grass (Arrhenatherum elatius) are particularly common. The troublesome invasive species Japanese stilt grass (Microstegium vimineum) can be seen throughout the Elkwallow picnic area where it is has overrun virtually all other forest understory herbs. Grasses possess a subtle beauty, and provide a worthy botanical challenge to those interested in determining individual species. Take a moment next time you pass some grass to bend down and take a closer look.