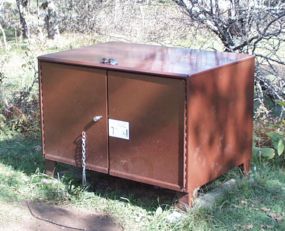 Avoiding Bears While Camping in Developed Areas and the Backcountry
Food preparation and clean up should be done well away from your tent and food storage area.
Minimize the amount of food you prepare to reduce storage needs or waste.
Do not bring food, toiletries, or cooking utensils into the tent.
Clean all pots, pans, and grills thoroughly with unscented soap and water making sure no trace of food is left for animals to smell.
Do not leave food lying around. Clean up everything right away after a meal and contain uneaten food in plastic bags or containers. Do not put cooking grease or food scraps in fire rings.
Do not assume food and supply are safe in a car. If you must keep supplies in a car, lock it up in the trunk. It is not unknown for bears to try to break into cars through the windshield or windows! If coolers or other food storage containers are to be stored in the passenger compartment of a vehicle cover them so they can not be seen.
Do not go to bed in the same clothes you were cooking in. Keep dirty clothes and packs outside the tent.
Use a bear resistant food container (BRFC), a bear pole, or hoist your food in a tree ten feet off the ground and four feet out in a bear bag. Cookware and trash should be similarly secured.
Be cautious of how you dispose of garbage. Dispose of garbage at a designated facility away from the campsite.
If you have brought a pet with you, make sure that it is secured and on leash at all times. Do not leave pet food in dishes in anticipation that it will be eaten later on.
Encountering a Black Bear
If an encounter occurs …
Remain calm and don't run. Like dogs, bears will often chase fleeing animals. You can't outrun a bear. They have been clocked at speeds up to 35 mph! Climbing a tree is futile since black bears excel at climbing trees. Jaw popping by the bear is a signal to you that it is uncomfortable.

Let the bear know you are human. Talk to it in a normal voice and wave your arms. If a bear cannot tell what you are, it may come closer or stand on its hind legs to get a better look or smell. A standing bear is usually curious - not threatening.

If the Bear does not leave the area - move away slowly. If leaving the area is not an option, or if the bear gets too close, you should make yourself appear as large as possible. Lifting your arms and a pack over head, moving to higher ground or, if in a group, huddling together will help discourage the bear. Make louder noise by banging pots and pans or using other noisemakers. Throwing objects at the bear may be appropriate but only when you are "cornered."

Avoid eye contact with the animal.
If a bear charges…
Don't run! Bears often make bluff charges, sometimes to within 10 feet of their adversary, without making contact. Usually, if you hold your ground they will back off.

Discharge pepper spray if you have it. Make sure you know how to use pepper spray. Discharging pepper spray improperly could make matters worse if you incapacitate yourself or others in your party.
If a bear actually makes contact…
Fight back! In rare instances black bears perceive humans as prey - if you are attacked by a black bear always fight back. Try to focus your attack on the bear's eyes and nose.
Report Incidents
If you become aware of a situation where a bear is "hanging out" in a campground or picnic area, where people are deliberately feeding a bear, or if you are involved in bluff charge situation or an actual contact incident - report it to park staff immediately.
Emergency Line: 800-732-0911
Additional Information