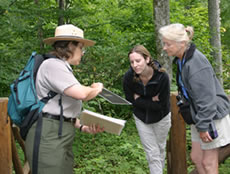 NPS | John F. Mitchell
Explore Rapidan Camp!
Shenandoah National Park offers ranger-guided tours of the Hoover's Presidential getaway late spring through fall. Click here for more information and the current Ranger Programs schedule.
The camp features the president's cabin, The Brown House, which has been historically refurnished to its 1929 appearance.
A recently completed exhibit, located in the historic Prime Minister's Cabin, offers visitors insight into the Hoovers' lives and their time at Rapidan Camp, as well as Herbert C. Hoover's Depression-Era presidency.
For an in-depth look at President Hoover, his presidency, and his special connection to Shenandoah try our multimedia interactive: Herbert Hoover and a Retreat Fit for a President