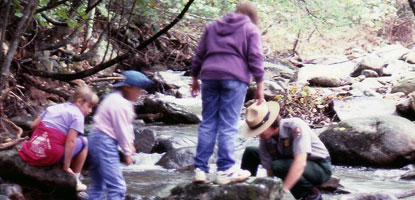 NPS photo
Overview
Fresh water is a precious, non-renewable resource that is essential for life. People depend on it for drinking, transportation, livelihoods, and recreation. Water also provides habitat for many plants and animals. The manner in which this resource is protected has a direct impact upon the natural and human communities. ShenandoahNational Park lies at the headwaters for three of Virginia's watersheds. Through study and observation of a mountain stream, students will connect local water sources with larger watersheds and better understand the dynamics of stream life and the extensive impacts of water management and usage. As human and environmental impacts are evaluated, stewardship behaviors that support a healthy world will be explored and practiced.
Objectives
Following the park and classroom activities, the students will be able to
define the following terms: watershed, headwaters, macroinvertebrate, abiotic, pH, dissolved oxygen, point and non-point source pollution;


describe the composition of a watershed and identify the Virginia regional watershed in which they live;


determine the water quality of the streams in ShenandoahNational Park based on scientific investigation and the study of macroinvertebrate communities;


predict the impacts on the health of a watershed ecosystem from natural events and human activities;


assess ShenandoahNational Park's role in protecting water resources and evaluate the effect of human behaviors on watersheds.
Virginia Science Standards of Learning Addressed
Strand: Living systems
6.7 - The student will investigate and understand the natural processes and human interactions that affect watershed systems. Key concepts include
a. the health of ecosystems and the abiotic factors of a watershed:

b. the location and structure of Virginia's regional watershed systems;

c. divides, tributaries, river systems, and river and stream processes;

f. major conservation, health, and safety issues associated with watersheds;

g. water monitoring and analysis using field equipment including hand-held technology.