Selma to Montgomery National Historic Trail

Due to the sequestration plan, Lowndes Interpretive Center, will be closed on Sunday's effective March 10, 2013, until further notice. For more information, please call (334) 877-1983 or visit www.nps.gov/semo
Selma Interpretive Center Closures

The Selma Interpretive Center will closed beginning Wednesday, March 26, 2014 and will reopen on Wednesday, April 16, 2014 in preparation for the new permanent exhibit. Please call the Lowndes Interpretive Center, (334) 877-1983 prior to your visit.
Fees & Reservations
Fees
Selma to Montgomery National Historic Trail, Lowndes and Selma Interpretive Centers do not charge entrance fees.
Reservations
Groups of 10 or more wanting to schedule Ranger-Led Tours should contact the Lowndes Interpretive Center at (334)877-1984 or the Selma Interpetive Center at (334) 872-0509 at least two weeks in advance to schedule tours. School groups are asked to supply a minimum of one adult chaperone for every 10 students.
If there are students with special needs, please indicate the type of need for the student during the scheduling of the reservation.
America the Beautiful - National Parks and Federal Recreation Lands Pass Series
Selma to Montgomery National Historic Trail is a fee free establishment and doesn't participate in the National Parks Pass Series program.
For more information on this program visit the America the Beautiful National Parks and Federal Recreation Lands Pass Series at their website http://www.nps.gov/fees_passes.htm
Note: Golden Access and Golden Age Passports are no longer sold. However, these passes will continue to be honored according to the provisions of the pass at other National Park Service Sites.


Did You Know?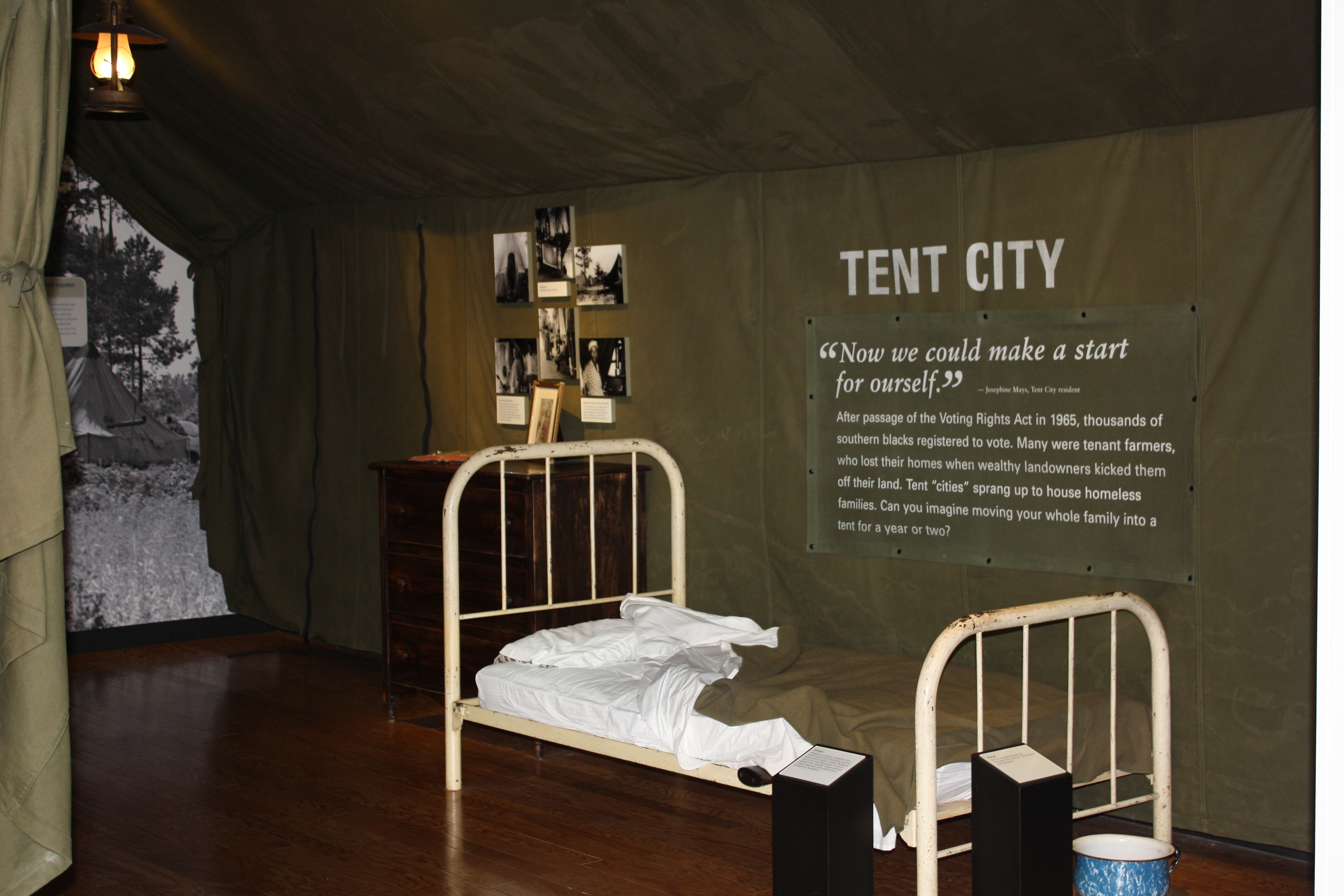 In 1965 several African-American tenant farmer families in Lowndes County, Alabama were evicted from their homes by White land owners because of attempting to register and vote. Few were fortunate to find temporary homes with families and friends, but those who weren't lived on the land near the Lowndes Interpretive Center and referred to the site as, "Tent City."