You May Have Trouble Calling Us

We are experiencing technical problems receiving incoming phone calls. We apologize for the inconvenience. Please send us an email to SEKI_Interpretation@nps.gov or check the "More" link for trip-planning information. More »
The Generals Highway "Road Between the Parks" is OPEN

The section of road between Lodgepole (Sequoia) and Grant Grove (Kings Canyon) will close with the first significant snowstorm after Jan. 6, 2014, and is expected to remain closed through Apr. 15, 2014. Call 559-565-3341 (press 1, 1) for 24-hour status.
Be Prepared! Tire Chains or Cables May Be Required in the Parks at Any Time

All vehicles must carry chains or cables when entering a chain-restricted area. It's the law (CA Vehicle Code, Section 605, Sections 27450-27503). Road conditions may change often. For road conditions, call 559-565-3341 (press 1, 1). More »
Vehicle Length Limits in Sequoia National Park (if Entering/Exiting Hwy 198)

Planning to see the "Big Trees" in Sequoia National Park? If you enter/exit via Hwy. 198, please pay close attention to vehicle length advisories for your safety and the safety of others. More »
What's in Each Area - Winter
Sequoia Park - Giant Forest, Wolverton and Lodgepole
6400-7200' (1950-2160 m) elevation. The Giant Forest Museum provides exhibits and visitor information, ski maps, books and first aid. Two miles north of the museum is the General Sherman Tree. When snow closes the upper Sherman Tree parking lot, park in the lower lot located by the Generals Hwy. Wuksachi Village offers lodging, a restaurant, and gift shop. No gasoline is available. Lodgepole campground is open year-round. If there is enough snow accumulation, the Wolverton area is open for snowplay. Be prepared for winter conditions. Call ahead for information 1-559-565-3341.
Sequoia Park - The Foothills
500-3500' (457-1067 m) elevation. The Foothills Visitor Center offers exhibits, first aid, maps,bear canisters, and books. This is a wonderful time of the year to explore the trails of the foothills which are usually snow-free and have mild winter temperatures. In January wildflowers begin to bloom and color the hills. Hospital Rock picnic area and Potwisha campground are open year-round. The South Fork campground (13 miles leaving Hwy 198) is also open year-round with no water. Call ahead for more information 1-559-565-3341.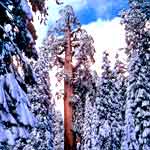 Kings Canyon Park - Grant Grove
6600' (2008 m) elevation. Grant Grove is home to the General Grant Tree, where the annual Nation's Christmas Tree Ceremony is held on the second Sunday each December. The Kings Canyon Visitor Center offers exhibits, an orientation movie, first aid, maps, and books. Grant Grove Village offers lodging, restaurant, market, cross-country ski & snow shoe rental, and gift shop. Gasoline is available at Hume Lake 11 miles (18 km) north of Grant Grove. In early November the road to Cedar Grove closes. When there is enough snow accumulation both Big Stump and Columbine Picnic areas are open to snowplay. The Big Stump Entrance Station is temporarily closed please pay entrance fees at the Kings Canyon Visitor Center. Call ahead for latest information 1-559-565-3341.
Did You Know?

Sequoia and Kings Canyon National Parks could have been set aside solely to protect the amazing caves found here. The parks protect half of the caves more than a mile long in California, including the longest cave in the state. They contain Pleistocene-era fossils, rare minerals and unique animals.