Winter & Spring - Giant Forest
Information
Giant Forest Museum: Open May 13 September 30, 2011 (weather permitting). Exhibits, maps, books, and first aid. Hours of operation vary with the season. Call ahead for information 1-559-565-4480.

Lodgepole Visitor Center: Open year-round. Exhibits, movie on black bear, wilderness permits, books, maps, and first aid. When Crystal Cave is open tickets may be purchased here. For hours of operation call 1-559-565-4436.

Beetle Rock Family Nature Center: Opens mid-summer. Check at the Giant Forest Museum for details and hours of operation. A hands-on natural experience for children of all ages. Across the Generals Highway from the Giant Forest Museum and down a short path toward the Beetle Rock viewpoint.
Camping
You are in black bear country. Food storage is required. Tables, food-storage boxes, restrooms, drinking water, RV disposal station in summer only; 6 people and 1 vehicle per site. See the link for information on reservations and other campgrounds in the parks.
Camping information...
Lodgepole: Elevation 6700'. North of Giant Forest 2 miles. 204 sites.
Dorst Campground: Elevation 6800'. Opens mid-May, weather permitting. On Generals Highway, 8 miles north of Lodgepole. 201 sites.
Lodging
Wuksachi Village: Open year-round just 4 miles north of the General Sherman Tree.. Reservations: 1-888-252-5757; www.visitsequoia.com.
Food/shopping
Wuksachi Village: Open year-round. Offers: lodging, restaurant, and gift shop. In winter the gift shop rents cross-country skis and snowshoes. Restaurant and gift shop hours of operation vary with the season call for information 1-559-565-4070. Four miles north of the General Sherman Tree

Lodgepole Village located next to the Lodgepole Visitor Center. Services usually opens in late May through early October. Hours and services vary with the season. The village offers: market, deli, grill, & gift shop. Supplies, emergency gasoline, outdoor equipment, breakfasts, sandwiches, ice cream, portable bear-resistant food canisters, & crafts. Call for information 1-559-565-3341.

Other facilities at Lodgepole Village

Laundromat (DNPS): Next to market. Coin operated. Open daily spring through fall; closed in winter.

Showers (DNPS): Open daily spring through fall.

Post Office: Behind visitor center. Open weekdays. Stamp machine 24 hours. Address mail to visitors: c/o General Delivery, Sequoia National Park, CA 93262.

Other places to eat and shop...
Picnic areas
Tables, pit toilets, fire pits with grills, and drinking water unless indicated. Not plowed in winter.
Crystal Cave
Is closed during the winter but tours are available from late spring through early fall. Tickets must be purchased at Lodgepole Visitor Center or Foothills Visitor Center at least 1-1/2 hours in advance; tickets are not sold at the cave. more...

Crystal Cave Road is 15 miles from Hwy. 198/park entrance; then 7 miles to cave parking. Wear sturdy shoes for the steep 1/4-mile trail to the cave where the tours start. Bring a jacket for the 50-minute tour of this beautiful marble cavern (free loaner jackets are available); cave temperature is 50°F (9 degrees C). No strollers, tripods, backpacks, or baby backpacks; not wheelchair accessible. No buses, trailers, or vehicles over 20 feet long on Crystal Cave Road. Operated by SNHA.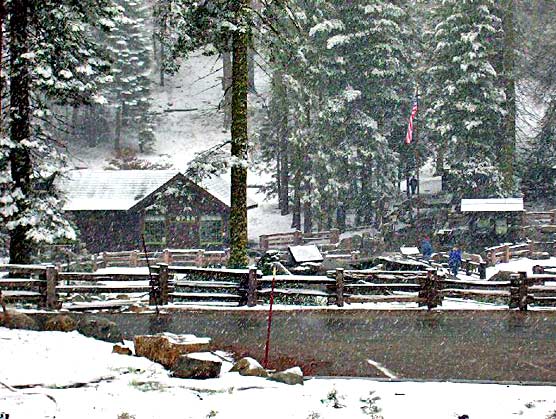 NPS Photo