Grant Grove Points of Interest, Summer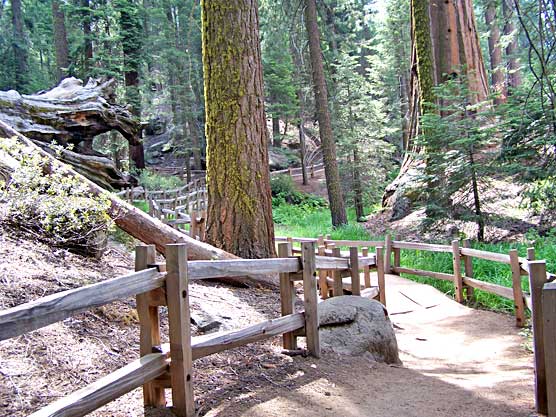 NPS Photo
General Grant Tree
The General Grant is the third largest tree in the world and the Nation's Christmas Tree. It has been designated a National Shrine, the only living memorial to Americans who died in war. Signs describe many of the features along this 1/3 mile, paved trail, including the historic Gamlin Cabin and the Fallen Monarch. You may also buy a more detailed trail booklet at the trailhead or visitor center book store. The trail begins 1 mile northwest of the visitor center. Take a virtual stroll along the Grant Tree Trail.
Big Stump Basin
Imagine yourself in a noisy, bustling logging camp as you ponder huge sequoia stumps and other remains of Smith Comstock's lumbering operation. As you walk this 1-mile loop through regenerating sequoia forest, shrubland and meadow, watch for birds and wildflowers. An alternate trail leads across the highway and past the Sawed Tree, a sequoia that survived being cut most of the way through over a century ago. Big Stump Basin is located 2 1/2 miles southwest of the visitor center on Hwy. 180.
Panoramic Point
Treat yourself to a spectacular vista of the High Sierra. Identify peaks from Mt. Goddard in northern Kings Canyon Park to Eagle Scout Peak in Sequoia Park. Mt. Whitney cannot be viewed from the roads on the west side of the Sierra due to the height of the Great Western Divide. The 2.3 mile road to Panoramic Point is not recommended for trailers and RV's. The viewpoint is a 1/4 mile walk from the parking lot. This road is closed to vehicle traffic in the winter, when it is available as a cross-country ski route.
Hume Lake
Hume Lake was built as a mill pond, and to supply water for a flume that floated rough-cut sequoia lumber from Converse Basin to the planing mill at Sanger, 54 miles away. The lake is in Sequoia National Forest. During the summer, it offers fishing, swimming, boat rental (available through Hume Lake Christian Camps) and a Forest Service campground, as well as gas, groceries and a small laundry. Hume Lake is 12 miles north of Grant Grove.