Changes to Some Opening/Closing Dates for Services and Facilities – Check Back for Updates

Some of the opening/closing dates for facilities and visitor services in the parks have changed due to weather and/or other circumstances. See link for details and match to locations on the park map (under "Park Tools," bottom left, this page). More »
Road Construction Delays (if Entering/Exiting Hwy. 198)

Expect minimal construction delays on main road through parks (Generals Hwy) through June 2013 on weekdays generally from 7 a.m.-6 p.m. See link for schedule. Call for 24-hour road conditions info: 559-565-3341 (press 1, 1, 1). More »
Vehicle Length Limits Have Changed in Sequoia NP (if Entering/Exiting Hwy 198)

Planning to see the "Big Trees" in Sequoia National Park? If you enter/exit via Hwy. 198, please pay close attention to new vehicle length advisories for your safety and the safety of others. More »
You May Have Trouble Calling Us. Use the "Contact Us" Link (Bottom Left) to Send an E-mail.

We are experiencing technical problems receiving some incoming phone calls at the parks. We apologize for the inconvenience. Please keep trying to reach us or check this website for frequently-asked questions. The search box (top, right) may be helpful.
Prescribed Fires Planned at Ash Mountain/Sequoia National Park (Parks' South Entrance)

Fire crews will be working on hazard fuel reduction project at Ash Mountain (south entrance) starting May 23. There are nine small burn segments near the south entrance. The fire may be visible from the road and will produce smoke for very short periods.
Spring Drives and Viewpoints
NOTE: Spring weather is unpredictable. Snow can fall suddenly at any time of year on park roads in higher elevations. Be prepared with tire chains, warm clothing, a sleeping bag, water, and emergency food in case you need to wait for the road to be plowed. Check the Current Advisories page for the latest road conditions.
Drive #1: Generals Hwy—Ash Mountain to Lodgepole
Drive #2: Generals Hwy—Lodgepole to Grant Grove
Drive #3: Hwy 180—Grant Grove to Hume Lake
Drive #4: Hwy 180—Hume Lake to Roads End (road opens mid-April, conditions permitting)
Drive #5: Mineral King Road (road opens the end of May, conditions permitting)
(Note: Drives #1 & #2 can be combined to form a loop through the parks. But we hope you will get out of the car and see some of the many treasures visible only by foot.)
---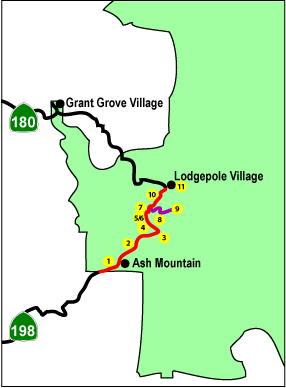 NPS Graphic
Drive #1: Generals Highway from Ash Mountain to Lodgepole
(NOTE: The final part of this drive may close at any time to allow for snow removal. Allow 1 hour one-way plus your time out of the car.)
The Kaweah River to Hospital Rock—views up and down the Kaweah Canyon as the highway winds up alongside the rapidly descending river.
Marble Falls—A 3.9 mile trail starting at Potwisha Campground Site #14 takes you to views of a delightful cascade. (Allow an extra 3-4 hours)
Hospital Rock—Stop and see the Native American pictographs and mortars. Once the road to Buckeye Flat Campground opens, consider taking the Paradise Ridge Trail starting at Site #26 to a footbridge across the river. (Allow an extra 30-90 minutes)
Amphitheater Point—excellent side view of Moro Rock.
Deer Ridge—wide vistas looking down toward Fry's Point and Three Rivers.
Eleven Range—another vista overlooking the Kaweah Canyon toward the San Joaquin Valley.
Beetle Rock—A short hike from the Giant Forest Museum takes you to the Beetle Rock Family Nature Center and great views from Beetle Rock. (Allow an extra 20 minutes)
Moro Rock—Once the Crescent Meadow Road opens (usually in early May), consider taking a 1.5 mile detour to the base of Moro Rock. A historic 400-step stairway carved out of the rock takes you to the top and sublime views of the heart of Sequoia National Park. (Allow an extra 1.5 hours)
Crescent Meadow/Eagle View—Once it opens all the way (usually by mid-May), consider taking the Moro Rock/Crescent Meadow side road to its end. Excellent trails offer beautiful views of Crescent Meadow and stunning vistas of the Great Western Divide from Eagle View. (Allow 1 hour for Crescent Meadow and 1.5 hours for Eagle View.)
Marble Fork Canyon— The Generals Highway from Giant Forest to Lodgepole offers dramatic views of the Marble Fork Canyon through the trees.
Lodgepole: Once the weather warms, Tokopah Trail offers great views of a glacially-carved granite canyon, including the 1,800-foot-tall granite face of The Watchtower. (Allow an extra 2 hours)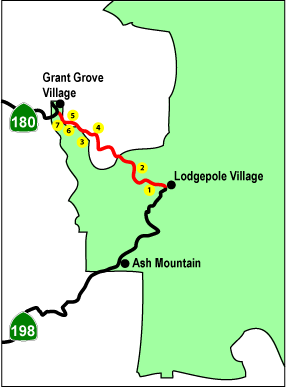 NPS Graphic
Drive #2: Generals Highway from Lodgepole to Grant Grove.
(NOTE: This road may close at any time—sometimes for an extended period of time—to allow for snow removal. Allow 1 hour one-way plus additional time for side trips and time out of the car.)
Lodgepole to Grant Grove—Pleasant mountain vistas through the trees of foothills and the San Joaquin Valley 6-7,000 feet below.
Little Baldy—A 1.7 mile trail takes you to a rocky summit with grand views of the North Fork and Marble Fork canyons. (Allow an extra 3 hours)
Buena Vista Peak—A 1-mile trail leads to great views of Redwood Canyon, Buck Rock Lookout, and the High Sierra. (Allow an extra 2-3 hours)
Big Meadows Road—Once this forest road opens (usually by June), it offers beautiful views of Boulder Creek Canyon. (Allow an extra 2 hours)
Kings Canyon Overlook—Impressive views of the Kings Canyon and High Sierra wilderness.
Redwood Mountain Overlook—Excellent view overlooking the world's largest sequoia grove.
Redwood Mountain Grove—Once it opens in mid to late spring, a dirt road leads to trails through the world's largest grove of sequoias. (Allow several hours, depending on how far you want to stroll under the sequoias)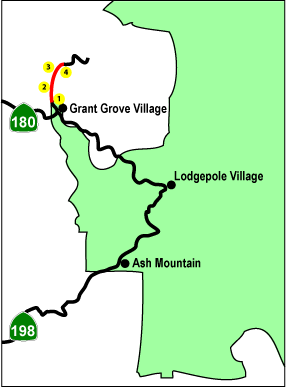 NPS Graphic
Drive #3: Hwy 180 Grant Grove to Hume Lake
(NOTE: This road may close at any time to allow for snow removal. Allow 1 hour round trip plus time out of the car)
Panoramic Point Road—Spectacular vista of the High Sierra. Once the snow melts and this road is open, go east through the new Kings Canyon Visitor Center parking lot, left around the meadow, then right at the intersection signed "Panoramic Point." Walk .25 miles up to the viewpoint. Consider continuing your hike on the 2-mile Park Ridge Trail to the Park Ridge Fire Lookout. (Allow an extra 4 hours to the lookout)
McGee View—Nice views of McGee Creek.
Converse Basin—Walk a 2-mile loop to see a huge ghost forest of sequoia stumps and one standing monarch, the Boole Tree. (Allow an extra 1.5 hours)
Hume Lake—See a beautiful lake with nice beaches formed by a rare and historic multiple-arch dam. Once it warms up, consider walking the easy 2.5 mile trail around the lake. (Allow an extra 1.5 hours to walk around the lake)
Optional Loop Return: Once it opens in late spring, consider taking the road from Hume Lake to Quail Flat and then return to Grant Grove via the Generals Highway. (Allow an extra 30-40 minutes if you decide to take this more winding route)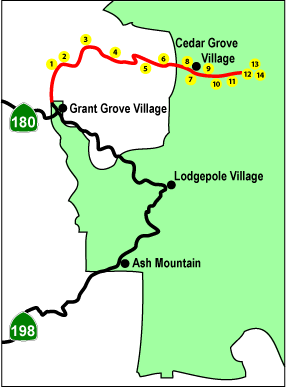 NPS Graphic
Drive #4: Hwy 180 Hume Lake to the Kings Canyon (Kings Canyon Scenic Byway)
(NOTE: This road usually is open to Roads End by the beginning of May. Allow 3 hours round trip from Grant Grove Village plus your time out of the car.)
Hwy 180 between Grant Grove Village and Junction View—Progressively more stunning views of the Kings Canyon.
Junction View—Excellent views of both the Middle Fork and the South Fork of Kings Canyon.
Yucca Point—Look almost straight down into foaming junction of the Middle Fork and the South Fork of the Kings River.
Hwy 180 between Yucca Point and Boyden Cave—Drive carefully along this section of the road blasted out of the nearly sheer walls of Kings Canyon. Stop frequently to appreciate the grandeur of this water-carved canyon.
Boyden Cave—Notice the layers of marble sandwiched between strips of volcanic rock. Appreciate the tremendous forces that tipped these layers to a nearly vertical orientation.
Grizzly Falls—A short trail leads to impressive falls and a cool, shady spot on a warm day. (Allow 5 extra minutes to the falls)
Don Cecil View—Take this pretty .75-mile trail up to a beautiful view across the canyon to the Monarch Divide. (Allow 1 extra hour)
Hotel Creek Overlook—Early morning is the best time to hike this 5-mile round trip trail to a nice view of Cedar Grove. (Allow 3-4 extra hours)
Canyon View—Excellent view of the U-shaped Kings Canyon showing its glacial past.
Roaring River Falls—Feel the power of this waterfall rushing through a narrow granite chute reached through a short, paved, and relatively accessible trail. (Allow 15 extra minutes)
Zumwalt Meadow—An easy 1.5 mile trail offers splendid views of high granite walls, a lush meadow, impressive talus, and the meandering Kings River. (Allow 1 extra hour)
Roads End—This pleasant area offers excellent views of high granite walls, access to river trails, and Muir Rock.
Mist Falls—Follow the Kings River to one of the park's largest waterfalls. (Allow 4-5 extra hours)
Bubbs Creek View of Canyon—On the way to Mist Falls, take the bridge across the Kings River and climb the Bubbs Creek Trail for great views of the Kings Canyon. (Allow 4-5 extra hours)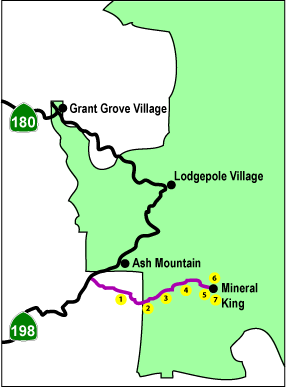 NPS Graphic
Drive #5: Mineral King Road
(NOTE: This road opens usually at the end of May, conditions permitting. Allow 3 hours round trip plus your time out of the car.)
Mineral King Road to Lookout Point—Progressively more breathtaking views of the East Fork of the Kaweah River as it carves its way through a deep canyon.
Lookout Point—At the park entrance is an excellent view of the canyon and a good place to take a break from this windy road.
Road to Atwell Mill—Stunning views of side canyons leading up to the Hockett Plateau.
Atwell-Hockett Trail—Consider stopping in Atwell Mill to walk a short way down this trail for close-up views of the river as it begins to carve the steep canyon you just climbed. (Allow 1 extra hour—2 extra hours if you descend all the way to the bridge just below the waterfall)
Mineral King Valley—Sublime views of a high alpine valley surrounded by tall peaks.
Timber Gap—Every step you take up this steep historic trail will reward you with ever better views of a classic view of Mineral King. (Allow 4 hours round trip to the gap)
Trails to Lakes—Leaving Mineral King Valley are numerous steep trails to picturesque alpine lakes and lovely views of sublime alpine country. (Allow 4-6 hours round trip per trail)
Did You Know?

Patches of colorful pink snow in the High Sierra are actually colonies of snow algae — Chlamydomonas nivalis. Unlike most species of fresh-water algae, it thrives in freezing water. Compressing the red snow with your boot increases the intensity of the color. Warning: Do not eat it!