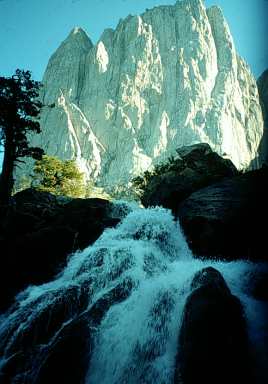 Photo by Greg Stock
Between these mighty mountains lie deep, spectacular canyons. Most significant is Kings Canyon. In the parks, Kings Canyon is a wide glacial valley featuring spectacular tall cliffs, a lovely meandering river, green vibrant meadows and beautiful waterfalls. A few miles outside the parks, Kings Canyon deepens and steepens becoming arguably the deepest canyon in North America for short distance. The confluence of the South Fork and Middle forks of the Kings River lies at 2,260 feet, while towering above the rivers on the north side of the canyon is Spanish Peak, which is 10,051 feet tall. The south side of this canyon above the confluence is significantly lower. Dozens of other canyons also await visitors to the two parks. This includes scenic Tokopah Valley above Lodgepole, Deep Canyon on the Marble Fork of the Kaweah River and deep in the parks' remote backcountry, Kern Canyon, which is more than 5,000 feet deep for 30 miles. The parks are headwaters for the Kaweah River, the Kern River, two forks of the Kings River and small areas of the San Joaquin and Tule river watersheds.
Most of the mountains and canyons in the Sierra Nevada are formed in granitic rocks. These rocks, such as granite, diorite and monzonite, formed when molten rock cooled far beneath the surface of the earth. The molten rock was a by-product of a geologic process known as subduction. Powerful forces in the earth forced the landmass under the waters of the Pacific Ocean beneath and below an advancing North American Continent. Super-hot water driven from the subjecting ocean floor migrated upward and melted rock as it went. This process took place during the Cretaceous Period 100 million years ago. Granitic rocks have speckled salt and pepper appearance because they contain various minerals including quartz, feldspars and micas. Valhalla or the Angel Wings are prominent cliffs that rise above the headwaters of the Middle Fork of the Kaweah River.
While geologists debate the details, it is clear that the Sierra Nevada is a young mountain range, probably not more than 10 million years old. Incredible forces in the earth, probably associated with the development of the Great Basin, forced the mountains to grow and climb toward the sky. During the 10 million years at least four periods of glacial advance have coated the mountains in a thick mantle of ice. Glaciers form and develop during long periods of cool and wet weather. Today, a few small glaciers remain in the parks. They are the southern-most glaciers in North America. Glaciers move through the mountains like slow-motion rivers carving deep valleys and craggy peaks. The extensive history of glaciation within the range and the erosion resistant nature of the granitic rocks that make up most of the Sierra Nevada have together created a spectacular landscape of hanging valleys, towering waterfalls, craggy peaks, alpine lakes and gigantic glacial canyons.