Velvet grass (Holcus lanatus) is a perennial grass, native to Europe, that was introduced to California as livestock feed. It escaped from cultivation and has become a weed species, particularly in the California Coast Ranges. In Sequoia and Kings Canyon National Parks, it is found in moist meadows and riparian sites in only a few locations, where it establishes dense patches that exclude native vegetation. It has become a particular problem in Yosemite National Park in recent years, forming dominant stands in wilderness locations.
Identification
Velvet grass is a tufted perennial up to 1 meter (3 feet) tall, with closely clustered stems. The entire plant is grayish and velvety, covered with fine, soft hair. Leaves are broad, long, and pointed at the apex, and leaf sheaths are open at the base. Flower panicles, 3 to 6 inches long, are plume-like, dense, pale-green to purplish, and hairy.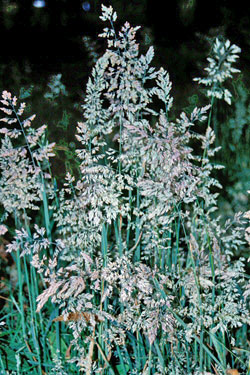 The Nature Conservancy, UCDavis photo
Look-Alikes
There are numerous grasses, sedges, and related plants that can appear similar to velvet grass. Distinguishing features are the purplish coloration on the panicles and veins of the sheaths, soft hairs all over, lack of rhizomes, and the second floret of each spikelet, which has a small, curved, hook-like awn.
Natural History
The main means by which velvet grass is spread is through seed production. It flowers from June to August and is wind pollinated. Its seed is dispersed in bird droppings, dung, mud, and soil, in which seeds remain viable for over 10 years. Its fibrous roots are relatively shallow.
In Sequoia and Kings Canyon National Parks velvet grass occurs generally in wet areas at mid elevations (5,000 to 7,000 feet elevation, though it may occur lower or higher). It has been detected in meadows in Grant Grove and Cedar Grove, and in wilderness locations in the Kern Canyon (Kern Ranger Station pastures, Lower Funston meadow, and Upper Funston meadow).
Management
In 2006 park staff began controlling velvet grass in wilderness locations in the Kern Canyon, and in 2007 control began in Grant Grove and Cedar Grove. Plants are pulled by hand, using small hand-tools to remove the roots. For dense patches in non-wilderness locations, or where velvet grass co-occurs with reed canary grass, approved glyphosate herbicides are sometimes used. A top priority beginning in 2007 is early detection of this species in wilderness locations, particularly those grazed by pack stock.