Bull thistle (Cirsium vulgare) is a biennial thistle that grows sporadically at middle elevations of Sequoia and Kings Canyon National Parks. It is native to Europe, and has naturalized throughout many areas of North America; its presence has been recorded in all of the 48 lower states.
Bull thistle is one of the more frequently encountered non-native plants in the parks above 1,400 meters (4,500 feet). Its ability to thrive at higher elevations and in relatively undisturbed areas makes it a species of concern. Currently, it is most common in and around disturbed areas.
Identification
This robust thistle is distinctive because of its purple flowers and rough bristly leaves. It is most common in moist disturbed areas. The first year following germination, the plant appears as a rosette of rough, spiny leaves. During the subsequent year, the plant bolts and produces spiny heads of purple flowers that produce abundant seeds. Each plant can produce more than one head. The bell-shaped heads are commonly 3-4 centimeters (1.2-1.6 inches) in diameter. The plant dies after it has produced seeds in the second year.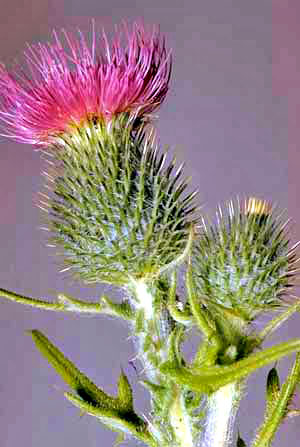 Photo by Brother Alfred Brousseau, St. Mary's College.
Look-Alikes
There are native thistle species that could be confused with bull thistle. The surfaces of leaves on bull thistle are rough to the touch, while the surface of the native thistles that occur in Sequoia and Kings Canyon National Parks tend to be smooth. The stems of bull thistle have obvious spiny wings. The native species tend not to have such distinct wings along the stem.
Natural History
Bull thistle reproduces entirely by seed. A healthy plant can produce up to 5,000 wind-dispersed seeds. The seeds, however, do not remain viable in soil for long periods.
Management
The most extensive infestation of bull thistle in the parks appears to be in and around the Grant Grove area. There are also populations in some areas of the park wilderness. Sequoia & Kings Canyon Natural Resource Management personnel have been actively controlling populations of bull thistle in the Grant Grove area since 1999.