Yellow star thistle (Centaurea solstitialis) is not currently established in Sequoia and Kings Canyon National Parks. However, small populations have been found and eradicated. An estimated 1,400,000 hectares (570,000 acres) were infested with yellow star thistle in the western states by the mid 1980s and this highly aggressive plant is a real threat to the foothill grasslands in the parks.
Yellow star thistle is native to southern Europe. It is considered a noxious weed and it tends to grow in disturbed, sunny sites at low to middle elevations. Yellow star thistle's distribution in California increases rapidly each year. What is of particular concern to park managers is its ability to successfully reproduce and colonize areas at higher elevations than many of the other noxious weed species in California.
Identification
Yellow star thistle is an annual plant that can reach up to one meter in height. The flowering heads have long tan spines, some of which exceed 10 millimeters (0.4 inches) in length. The vegetative part of the plant is spineless. The stem has obvious leafy wings. In the foothills of Sequoia National Park yellow star thistle does not flower until late June or July, later than most other foothill annuals. At higher elevations yellow star thistle may not flower until September or October.
Look-Alikes
Yellow star thistle is distinguishable from most other thistles in Sequoia and Kings Canyon by its lack of spines along the leaf margins. Tocolote (Centaurea melitensis), another introduced species, is the plant that is most easily confused with yellow star thistle. Tocolote also lacks spines along its leaf margins, but it is distinguishable from star thistle by the length of the spines on its flowering heads. On tocolote the spines are generally smaller than 10 millimeters (0.4 inches) while on yellow star thistle the spines are generally larger than 10 millimeters (0.4 inches).
.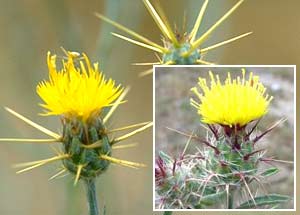 Yellow star thistle photo by Jo-Ann Ordano, © California Academy of Sciences; inset photo modified from the collection of Michael Charters.
Natural History
Yellow star thistle reproduces entirely by seed. Each plant can produce up to 10,000 seeds per year. Seeds can remain viable in the soil for longer than five years. Each flowering head produces seeds with two distinct forms. One form has fluffy bristles, which allow it to be wind dispersed a short distance from the parent colony. The other form has no bristles, and drops directly from the plant, thereby maintaining the parent population.
Management
About a dozen individuals were encountered in Sequoia National Park along the Generals Highway between Ash Mountain and Potwisha campground in 1998 and 1999. Single plants were detected and eradicated in the Ash Mountain Headquarters in 2005 and 2006.
There are numerous persistent populations in lands adjacent to Sequoia and Kings Canyon National Parks and they are potential seed sources for introduction into the parks. Yellow star thistle is abundant along Highway 198 west of the town of Lemon Cove and has recently formed satellite populations in the community of Three Rivers, adjacent to the park.
It is very common in Eshom Valley, not far from the North Fork of the Kaweah River. It has advanced to mid-elevations along Highway 180, about 10 miles west of the Grant Grove park boundary. Early detection surveys are conducted in susceptible habitat on a regular basis in order to provide immediate detection and control of this highly threatening species.