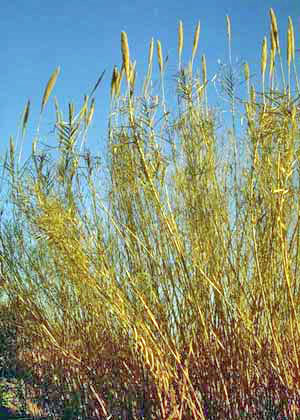 Photo by Brother Alfred Brousseau, St. Mary's College
Identification
Giant reed is a bamboo-like perennial grass that can grow up to eight meters (25 feet) in height. It has thick creeping rootstocks. The stems are hollow and can reach 4 centimeters (1.6 inches) in diameter. The flower clusters are plume-like, often purplish in color, and can reach 60 centimeters (2 feet) in height. Arundo turns mostly brown in the wintertime, and grows most vigorously in late spring and early summer. Aside from cultivated bamboo, there are no grasses in California that could be mistaken for giant reed.
Natural History
Giant reed requires a tremendous amount of water to persist. This, coupled with its ability to quickly dominate entire stream channels, makes arundo a particularly pernicious weed in the thirsty state of California. Little is known about arundo's reproductive ability in California. There are no observations of the plant sexually reproducing in this state; it appears to spread to new locations via fragments of stems and rootstocks, especially during flood events.
Management
There are a few small populations known to be in Sequoia National Park. All are in and around the Ash Mountain area. Natural Resource Management Personnel began eradication of this species in 2002.