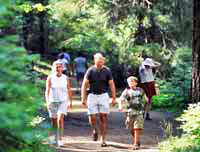 NPS photo Steve Collector
Hiking is the premier activity in Giant Forest. The 40-mile network of trails that traverses the grove on gentle terrain offers seemingly endless combinations to encounter the magnificent giant trees.
Beginning in 2002, construction made several key trails fully accessible, improved signs, simplified access, and rehabilitated the aging trail system.
With the opening of the Sequoia Shuttle operations in 2007, visitors now have opportunities to hike one-way routes, using the shuttle to return to their vehicle. Learn more about the Sequoia Shuttle. > >