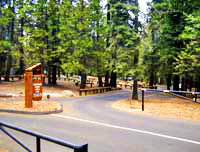 NPS Photo by Athena Demetry
Picnicking is a popular activity appealing to a diverse array of park visitors, and it is important to accommodate it near Giant Forest. In the past, the Crescent Meadow area provided facilities, but the meadow resources are too fragile for such intense activity and picnicking at this location has been phased out. If no facilities are provided, picnicking will occur at dispersed locations and increase bear problems.
Pinewood, formerly a concessioner employee housing area, was identified as an area on the edge of the grove where picnicking could be provided within previously disturbed sites that could handle intense use. Pinewood provides permanent replacement of the Hazelwood picnic area, which was closed in August 1969 following a fatality from a falling tree.

Construction of the Pinewood picnic area began in Summer 2000. Group sites were included in the design to accommodate the growing number of extended families visiting the park. Accessible sites and a new comfort station were also constructed.