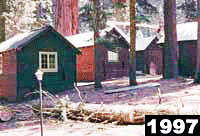 NPS photos by Athena Demetry
Before-and-after photographs taken from the same location dramatically reveal the restored natural landscape that was obscured by buildings, roads, and parking lots. Click on a red dot on the map below to view before and after photos from that location.
In areas where plantings were done to restore vegetation, seedlings are visible in the photographs. In areas where natural regeneration was the sole means of restoring vegetation, recovery is slower: Tiny tree and shrub seedlings are present in many locations but not highly visible in the photos. These sites will be re-photographed from permanent photo points for at least 10 years after restoration to visually record their recovery.
It may take a moment for the interactive map to load in the space below—especially if you have a slow dial-up connection (the SWF file is 981kb in size). For quicker access, you can view all photos side by side on a single page, with no interactivity.