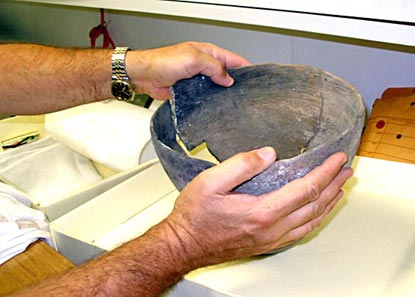 NPS Photo
Sequoia and Kings Canyon museum collections represent a significant cultural heritage and research resource. Together they include more than 800,000 objects. The museum collections preserve and reflect the natural and social history of a significant region of the southern Sierra Nevada.
Important collections include:

an administrative archives extending back to the military era;
a collection of historic photographs documenting multiple aspects of the parks' use and management;
artifacts, photographs and publications illustrative of local history and land/resource use;
archeological artifacts and site records documenting both prehistoric and historic sites;
an extensive herbarium preserving and representing many species of indigenous flora;
records documenting one hundred years of park management and the emergence of National Park Service prescribed fire policies and practice;
ethnographic holdings including the Agnew collection of Native Californian basketry;
rare books of regional interest; and
historic motion pictures.
These collections are housed primarily in the Museum Collections Area of the Ash Mountain Headquarters Building. A handful of items are currently on display in Visitor Centers or stored on-site in historic structures.
For more information, contact the parks' curator at 559-565-3133.
Research Tools:
NPS Web Catalog - Home
The park service's web catalog allows visitors to search across the museum collections from units across the country. It also features a "Park of the Week" and "Collection Highlights of the Week," demonstrating the great wealth and diversity of park collections.
NPS Web Catalog - Search Sequoia and Kings Canyon
Sequoia and Kings Canyon National Parks is working toward making its museum collections available to researchers over the worldwide web. To date, some 1,500 cataloged objects have been photographed and their catalog records posted to the park service's web-based museum catalog. For archival collections, an electronic copy of an in-depth finding aid is attached to the catalog record. Follow this link to search or browse some of the parks' collections.
IRMA (Integrated Resource Management Applications)
The NPS Data Store is a service-wide repository for documents, reports, publications, and data. Researchers can choose to search across the entire system or can focus on particular parks by using the "Filter by NPS Unit" function. In many cases, electronic copies of the documents are available for download. Many important documents relating to the history of Sequoia and Kings Canyon National Parks are available through the data store, many with electronic copies attached.
NPS Focus
NPS Focus is a collection of images and documents relating to the park service. Researchers can search across the entire system or can browse by subject or by park. On this site, researchers will find a wealth of contemporary imagery as well as some important documents relating to the history of Sequoia and Kings Canyon National Park, including electronic copies of the early superintendent's annual reports.
Online Archive of California (OAC)
The OAC provides access to detailed descriptions of archival holdings from over two hundred participating institutions. Researchers can search across all collections or can browse specific holdings. To date, Sequoia and Kings Canyon have posted the finding aids for six archival collections to the OAC