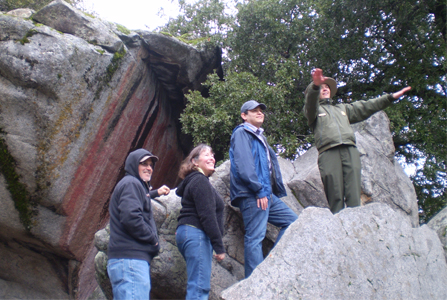 NPS Photo
Teacher Workshops
A California Phenology Project Educator's Workshop This free workshop explores phenology, the study of seasonal biological events like migrations and flowering. Learn how to use phenology to track changes in climate and how you can connect your students or community to parks and science. Date TBA.
Project Based Learning in the Great Outdoors Spend time in the parks while learning how to connect your students to local landscapes through authentic Project Based Learning experiences. June 22-25, 2015.
Teacher-Ranger-Teacher: Sequoia and Kings Canyon National Parks is unable to host a Teacher-Ranger-Teacher program for the summer of 2015. Check back later for future opportunities.
Host a teacher workshop! New to Rangers in the Classroom or our In-Parks Field trips? You can get your whole school involved through a teacher workshop at your site. Contact the Education team at SEKI_RITC@nps.gov or (559) 565 3719 to set up a workshop for your school.