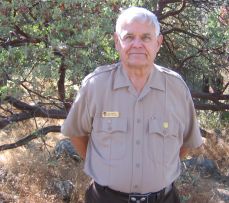 NPS Photo
Jim Dempsey, Foothills Visitor Center Assistant
After a 32 year career in the National Park Service, Jim Dempsey continues his service as a volunteer at Sequoia and Kings Canyon National Parks. His experiences in trail maintenance, forestry, safety, interpretation and visitor protection in parks throughout the country make Jim an invaluable reference for visitors and park employees alike. Jim and his wife chose Three Rivers for their retirement home where they have lived for the past 20 years – the longest they've lived in any one place.
For the last 13 years Jim has been at the Foothills Visitor Center assisting visitors and sharing his experiences and expertise in the parks. Jim says he continues to volunteer because he enjoys working with people and being a part of the park service family. His favorite part of the parks is Cedar Grove which he feels is less visited than other areas. After a working there one summer he enjoys returning to the area to enjoy the beauty of the Kings Canyon and camping it offers.