Parks as Classrooms
Invite a ranger into your Classroom! Rangers in the Classroom programs are multi-grade, curriculum-based programs that enable park rangers to visit elementary schools throughout Tulare County, CA. Students are introduced to the great outdoors of Sequoia and Kings Canyon National Parks, and encouraged to be stewards of the parks and of nature in their own neighborhoods.
Rangers in the Classroom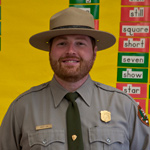 Rangers in the Classroom
Learn More
Bring your class to the parks! Ranger-led field trips are now available for school groups, grades 2-6. You can visit the foothills at Hospital Rock, or the giant sequoias in the Grant Grove and Big Stump areas. These curriculum-based programs involve hands-on investigations and explorations, and are taught collaboratively by rangers and teachers.
Ranger Led Field Trips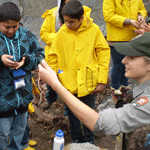 Ranger Led Field Trips
Learn More