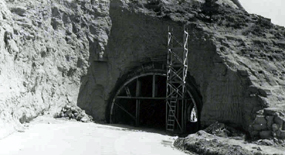 NPS Photo
In 1928, the picnic area received further improvements when it was provided with electric power and streetlights, and in 1930 a Memorial Arch was constructed. A high point in Custodian Mathers' efforts to develop the monument came on June 16, 1931, when Horace Albright, Director of the National Park Service visited the site. Impressed by what he had seen, on a second visit in 1932, Albright promised to support the construction of the summit road.
Within a few months the first federal money was allocated to begin work on the Summit Road. Excavation of the lower tunnel and parking area, and construction of a connected hiking trail was assigned to a private contractor. Unfortunately, at this same time, a surveyor discovered that the previously developed picnic area had been mistakenly build outside the monument's boundary!
For a short time, construction efforts came under the guidance of an agency known as the Civil Work Administration, which continued until April 28, 1934, when all construction came to a stop. At this time a complete survey was conducted to identify the bluff's historic and natural resources and to determine its future needs.
During this survey, Dr. Harold J. Cook was named the monument's first ranger and on December 20, 1934, another federal agency, the Public Works Administration funded some work on the road to the summit, as well as planning for the new museum.
Development at Scotts Bluff National Monument began in earnest with the arrival of Company 762 of the Civilian Conservation Corps. In April of 1935, these civilian laborers, under the leadership of Army officers, assumed responsibility for completing the summit road and work on new picnic grounds. Work on the first wing of the Oregon Trail Museum was assigned to the Fullen Construction Company in the fall of 1935.
Charles Randels succeeded Cook on July 15, 1935, as Scotts Bluff's fourth Custodian. Before leaving on June 25, 1938, Randels oversaw the completion of the tunnels and the paving of the Summit Road in 1937. The Oregon Trail Museum was dedicated on July 16, 1936, and the Summit Road was opened to the public on September 19, 1937.