Brochures
There is a variety of subjects that interest our visitors. From the covered wagons to snakes, people are curious to know more. To meet that curiosity the staff at Scotts Bluff National Monument has written a series of site bulletins. These handouts give visitors enough information to either satisfy or whet their appetite for more. If more information is desired, the Oregon Trail Museum Association (OTMA) sells books covering several subjects.
Click on any of the titles below to see the site bulletin. If you wish to print one, they are designed for legal size (8.5"x14") paper. These bulletins are also available at the Scotts Bluff National Monument visitor center.
---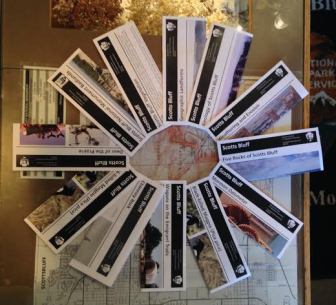 NPS - Gant
Site Bulletins
Did You Know?
Originally the road to the summit did not have a center line painted on it. Instead a buzz strip was made to alert drivers by sound and vibration that they were about to drift into the other lane.