Monument Marathon Lane Closure September 27

The morning of Saturday, September 27, the east bound lane of Old Oregon Trail will be closed from 8AM until 1PM. The park is open normal hours of 8AM -5PM. To access the park please use the west bound lane. For more info http://www.monumentmarathon.com/ More »
Prairie View Trail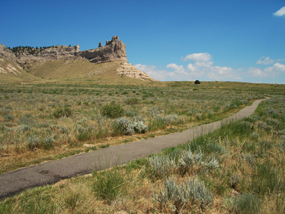 Photo by Jonathan S. Garcia
The best views of Saddle Rock, Dome Rock, Sentinel Rock and Mitchell Pass can be seen from the Prairie View Trail. The paved 1.2 mile path is open to bicycle riding as well as foot traffic and leads from the visitor center parking lot to the east boundary of the monument. At the east boundary, the path connects with the cities of Scottsbluff and Gering's Monument Valley Pathway System.
For safety reasons, bicycling on the Summit Road is prohibited when the road is open to vehicular traffic. When the Summit Road gate is locked*, the road is open for biking during daylight hours.
Every mid-July, the city of Gering holds the Bike Hill Climb - a timed race to the summit via the Summit Road in street and mountain bike divisions. For specific dates, visit the city of Gering's website.
*Before 8 a.m. and after 7 p.m. in the summer. Before 8 a.m. and after 5 p.m. in the off-season.
Did You Know?

Climbing Dome Rock at Scotts Bluff National Monument is extremely dangerous and is prohibited because of the crumbly nature of the Brule clay formation that makes up its steep walls.