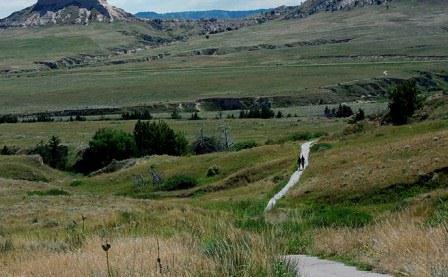 National Park Service photograph
Scotts Spring is the only natural spring with the Monument. It was first recorded in pioneer diaries as a place to find clear drinking water as compared to the often muddy water of the North Platte River. Today the spring is easily visited, as it is located next to the Saddle Rock Trail and approximately one-half mile from the visitor center. The spring is very small and can be easily missed by visitors. Animals of the Monument use it as a source of drinking water. Their tracks can be seen in the mud or snow near the spring.
To the north of the Gering Irrigation District's canal is an area with a few seeps. These seeps are not located on any map, because they are small and very little water flows from them. The seeps do produce lush vegetation, which appears out of place in the badlands area of the Monument. These very small seeps appear to be associated with the district's canal as soil drilling has revealed saturated soil below the level of the canal's water for at least fifty feet. The seeps do flow year around.