Night Tour - SAND - 4-19-14
Sand Creek Massacre NHS News Release
Release Date: Immediate
Contact(s): Shawn Gillette, Chief of Interpretation
Telephone Number: (719) 729-3003
Date: April 1, 2014
Sand Creek Massacre NHS Offers Special Evening Program
The night march of Colonel Chivington and his volunteer regiments and the subsequent massacre of peaceful Cheyenne and Arapaho along the banks of the Big Sandy Creek in southeastern Colorado, will be the topic of a free evening interpretive program at the Sand Creek Massacre National Historic Site (NHS) on Saturday, April 19, 2014. Reservations are required.
Join park staff for an evening program that will discuss events related to the all night march of 675 soldiers of the 1st and 3rd Regiments Cavalry, Colorado Volunteers from Fort Lyon to the Cheyenne and Arapaho encampment on Sand Creek in 1864. The program will begin at 7pm at the Monument Hill parking lot of the Sand Creek Massacre NHS and end at 8:30pm. For reservations contact Sand Creek Massacre National Historic Site (719) 729-3003.
Entrance into the park is free and gates will open at 5:30pm. Restroom facilities and parking are available at the Monument Hill parking lot. All visitors are welcome to bring their own flashlights.
Participants should dress warmly and wear comfortable walking shoes. Inclement weather on the day of the event will cancel the program and participants with reservations will be notified.
The Sand Creek Massacre site is located 23 miles east of Eads, CO. From Eads, take Highway 287 South for 2.7 miles before turning left onto Highway 96 East. Continue through the town of Chivington, to Chief White Antelope Way (a well maintained dirt road). Turn north on Chief White Antelope Way (CR 54) for 8 miles before turning east on County Road W. The park is located 1.3 miles east on County Road W.
Did You Know?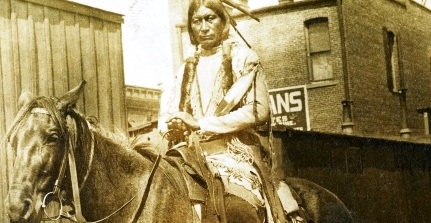 Among the Chiefs at Sand Creek was old Yellow Wolf. His band suffered heavily, and the old Chief, as well as his brother were killed. Yellow Wolf's son Red Moon (pictured) survived, and became a respected leader until his death in 1901. Today, some Cheyenne still refer to themselves as the Red Moon people.