The Sand Creek Massacre - 8 Hours that changed the Great Plains forever
The Sand Creek Massacre: profound, symbolic, spiritual, controversial, a site unlike any other in America. 

As 675 cavalrymen came around a prairie bend, the camps of Chiefs Black Kettle, White Antelope, and Left Hand lay in the valley before them.  Chaotic, horrific, tumultuous, and bloody, the events of November 29, 1864 changed the course of history.

Did You Know?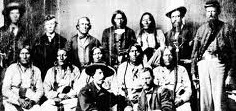 On September 28, 1864 Cheyenne Chiefs Black Kettle and White Antelope, with other Cheyenne and Arapaho, met in council with Colorado Governor John Evans and Colonel John Chivington. Held at Camp Weld near Denver, Major Edward Wynkoop, commander at Fort Lyon arranged the council and anticipated peace.