2013 Fire Restirctions

Due to high fire danger, fire and smoking restrictions are now in effect on all National Park Service land in the Santa Monica Mountains National Recreation Area. For details, please download the public notice or call 805-370-2301. More »
Update on Park Closures

All NPS trails are open at Rancho Sierra Vista/Satwiwa! Currently, this park site is only open sunrise to sunset.
Map and Site Information: Zuma Beach County Park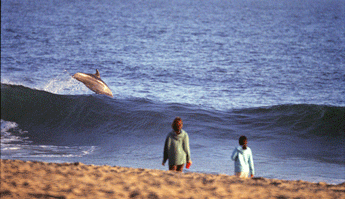 Photo by NPS-A. Bevilacqua
This wide, sandy beach along the Pacific Coast Highway is a popular destination for surfing, swimming, and observing dolphins and sea lions or the diverse wildlife around the restored wetlands of nearby Zuma Lagoon. The beach has parking, volleyball courts, lifeguard stations, swing sets, and a snack bar. A scenic bike path starts here and runs northward for about 2.5 miles.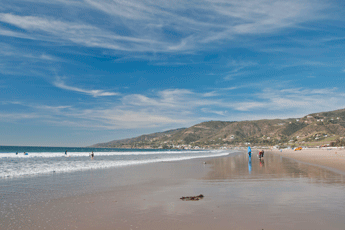 Photo by NPS-A. Bevilacqua
Site Info and Map
Zuma Beach Entrance Area Map (JPG - 814KB)
Directions
Pacific Coast Hwy to Busch Dr. First right after turn. Travel through a tunnel to entrance station.
Did You Know?

Many hands spanning different generations and agencies continue to turn back the clock on damage to the fragile environment at Zuma Lagoon. After the removal of debris and the restoration of native plants, beach visitors now find a living wetland with 108 species of birds and colorful wildflowers.