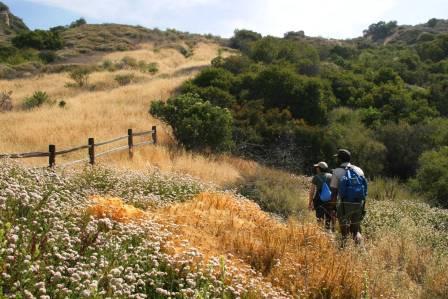 Photo by Jim Belsley
The Backbone Trail ties together the individual parks of the Santa Monica Mountains, offering a cross sectional view of this unique National Park unit.
To assist you on your Backbone Trail hike, we have put together some background information on individual trail segments, starting from the Ray Miller Trail at the western end of the trail in Point Mugu State Park and finishing at Will Rogers State Historic Park, the eastern end of the trail. You will need to check maps to see where the nearest road access is and arrange your own transportation.
Points that will be noted on the sections to the right are:
Mileage for the trail segment.
Which agency covers the area.
What type of flora (shrubs, grassland, and woods) can be expected.
Notes about geology, history or structures that will be useful in finding your way.
Cautions of possible trail confusion or other hazards.
Use the links to the right by clicking the Read More >> >> link learn about the section of trail you wish to visit.