2013 Fire Restirctions

Due to high fire danger, fire and smoking restrictions are now in effect on all National Park Service land in the Santa Monica Mountains National Recreation Area. For details, please download the public notice or call 805-370-2301. More »
Update on Park Closures

All NPS trails are open at Rancho Sierra Vista/Satwiwa! Currently, this park site is only open sunrise to sunset.
Map and Site Information: Temescal Gateway Park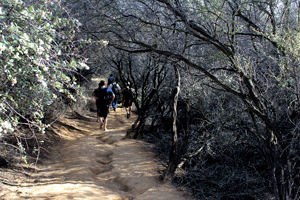 Temescal Gateway Park and the Temescal Canyon Conference and Retreat Center encompass 141 acres of oak and sycamore canyons, ridge top views, and access to miles of trails in Topanga State Park, Will Rogers State Historic Park, and the 20,000-acre "Big Wild." The popular loop trail starts adjacent to the year-round Temescal Creek and travels along the canyon ridge, offering spectacular views of the Pacific Ocean.



Park amenities include easy to moderate trails, picnic tables and grassy areas, restrooms, a camp store, meeting rooms, an auditorium, and classrooms.

The Temescal Canyon Conference and Retreat Center provides overnight accommodations for up to 100 people, and the architecturally distinctive Temescal Dining Hall serves as a beautiful location for events of all kinds.

The park is accessible by both Los Angeles Metro bus and the Santa Monica Blue Bus routes.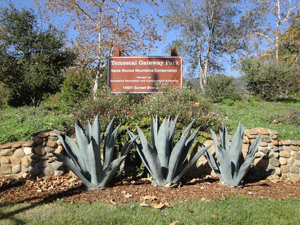 Site Info and Map
Temescal Gateway Park Map (JPG - 705 KB)

Fee may be collected for entry.
Directions
15601 Sunset Blvd., Pacific Palisades, CA
From Pacific Coast Hwy, turn inland on Temescal Canyon Rd. Cross Sunset Blvd. to park entrance.
Did You Know?

A core group of dedicated National Park volunteers, often laboring in the hot sun, built a native plant nursery from the ground up in 2002. Native plants, from the common Ceanothus to the endangered Lyons pygmy daisy germinated in this volunteer-run nursery will help restore disturbed habitat.