Map and Site Information: Rocky Oaks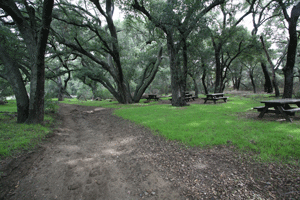 Rocky Oaks is a hidden gem set in 200 acres of land with hiking trails and a pond. This site is great for families who want to introduce younger visitors to a natural park experience. With restrooms and water available, a shaded picnic area is just a short walk from the parking lot. Located at the intersection of Mulholland Highway and Kanan Road, this oasis is a great stopping point if you are interested in seeing what the mountains have to offer as you tour them with your car.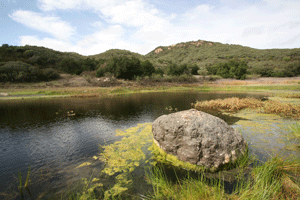 For thousands of years, Rocky Oaks provided people with food, shelter and materials. Ancestors of today's Chumash survived on the abundant resources of the land, hunting animals and harvesting plants. European settlers brought agriculture to this area. The stock pond and much of the grassland habitat are remnants of that life-style. Agricultural operations at Rocky Oaks ended with the 1978 Kanan Fire. Today, Rocky Oaks serves as a refuge for wildlife. Rocky Oaks is an undeveloped space in which animals can find food and shelter. It helps connect the habitats that make up the Santa Monica Mountains and allows animals to travel and rest. Rocky Oaks also gives its human guests a place to relax, picnic, stroll, view wildlife or introduce young hikers to the outdoors.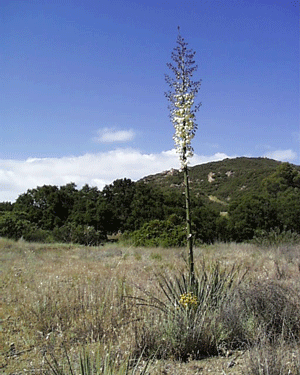 Trail Map and Current Weather
Rocky Oaks Site Bulletin
Current Weather
Directions
Located in the 31500 block of Mulholland Highway west of the Kanan Road intersection. The entrance is on the north side of Mulholland Highway.
Take the Ventura Freeway (U.S. 101) to Kanan Road. South on Kanan Road to Mulholland Highway. Turn west (right) on Mulholland Highway and right again into the parking lot.
GPS Coordinates: N 34.0967 W -118.8141