2013 Fire Restirctions

Due to high fire danger, fire and smoking restrictions are now in effect on all National Park Service land in the Santa Monica Mountains National Recreation Area. For details, please download the public notice or call 805-370-2301. More »
Update on Park Closures

All NPS trails are open at Rancho Sierra Vista/Satwiwa! Currently, this park site is only open sunrise to sunset.
Recycle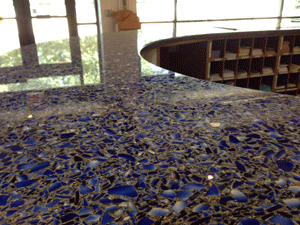 In developing this facility, an important goal was to have as little as possible end up in landfills. More than 80% of the materials used in the building are recycled. The visitor center welcome desk is comprised of wood refurbished from the roof, and the countertop is recycled glass. The concrete slab flooring was recycled from other nearby projects, which reduced emissions in transporting the material. Any materials that could not be incorporated were sent to transfer stations to be recycled into other projects.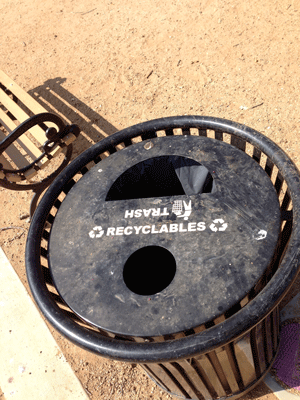 Visitors will find that the site has waste receptacles on site for separating trash. This allows us to recycle as many things even as we continue to use this one of a kind building.
Furthermore, we use bioswales in the natural recycling process. Bioswales are landscape elements that use native plants and a filtration drainage course to filter out pollutants and recharge the water table without the introduction of contaminants or silt.
These are just a few ways the interagency visitor center exemplifies our commitment to a more sustainable future that supports the efficient use of our planet's limited resources. How might you be inspired as you explore this facility and the Santa Monica Mountains?
Did You Know?

Four state parks were the triumph of a grassroots movement to protect open spaces minutes from Los Angeles in the 1950s & 60s. Three women, Sue Nelson, Jill Swift, and Margo Feuer further galvanized the movement that helped make Santa Monica Mountains National Recreation Area a reality in 1978.