Map and Site Information: Point Dume State Preserve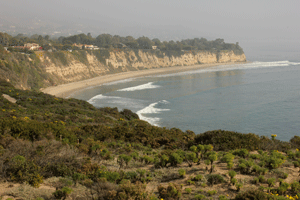 Point Dume State Preserve is home to many rocky coves, cliffs, and unique views of Malibu. On a clear day, Santa Monica Bay can be seen to the south, while Catalina Island is visible to the north. In the Summer months, locals can be found swimming, scuba diving and surfing. It's also a popular spot for whale watching between the months of December and March, when migrating whales take a shortcut near the bluffs while entering and exiting the bay.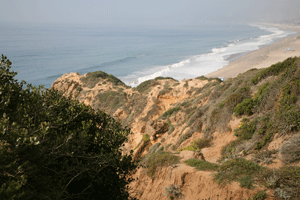 Site Info and Map
Point Dume State Preserve Map and Guide (PDF - 1.2 MB)

Fee may be collected for entry.
Directions
Pacific Coast Hwy to Westward Beach Rd in Malibu. Turn south and follow road to parking lot.
Did You Know?

Many hands spanning different generations and agencies continue to turn back the clock on damage to the fragile environment at Zuma Lagoon. After the removal of debris and the restoration of native plants, beach visitors now find a living wetland with 108 species of birds and colorful wildflowers.