2013 Fire Restirctions

Due to high fire danger, fire and smoking restrictions are now in effect on all National Park Service land in the Santa Monica Mountains National Recreation Area. For details, please download the public notice or call 805-370-2301. More »
Update on Park Closures

All NPS trails are open at Rancho Sierra Vista/Satwiwa! Currently, this park site is only open sunrise to sunset.
Map and Site Information: R.H.Meyer Memorial State Beaches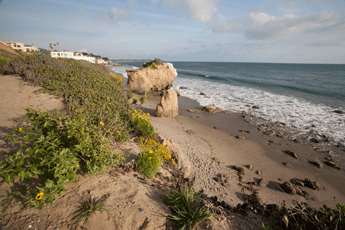 Robert H. Meyer Memorial State Beaches is made up of three cliff edged "pocket beaches", each more scenic than the next.
El Matador State Beach: Follow the long dirt trail to this rocky beach with beautiful views and sea caves. It is suitable for year round visitors with beach swells in the Winter and Summer months. Wildlife such as pelicans and other shore birds are a common site. Nature fans can take in plant life of cacti and flowers.
La Piedra State Beach: Located on the Pacific Coast Highway, this beach has picturesque sandstone cliffs and reefs. The abundance of kelp beds are great for surfers and divers. Due to choppy waters, it is recommended to check the conditions before heading out. The borders of the beach and walking path to the entrance are lined with rocks, something to keep in mind before wearing your flip flops!
El Pescador State Beach: This is the spot for bodyboarders and surfers who like seclusion. The opportunity for water sports and activities is almost endless. There's plenty of open space within this cove to make it feel like you're in your own little world.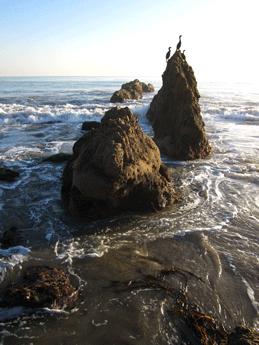 Site Info and Map
Digital map showing the site's locations (JPG - 721 KB)

Fee may be collected for entry.
Directions
All sites are located along Pacific Coast Hwy near Encinal Canyon Rd.
El Matador State Beach: On Pacific Coast Hwy, 0.5 mile east of Encinal Canyon Rd.
La Piedra State Beach: On Pacific Coast Hwy 0.1 mile west of Encinal Canyon Rd.
El Pescador State Beach: On Pacific Coast Hwy, 0.4 mile west of Encinal Canyon Rd.
Did You Know?

Invasive plant seeds and fruits can stick to you boots, shoelaces, backpacks and even pets! Check your gear! Make sure you're not introducing harmful invasive species like the Yellow Star thistle to the Park, or into your back yard. More...