Map and Site Information: Malibu Lagoon State Beach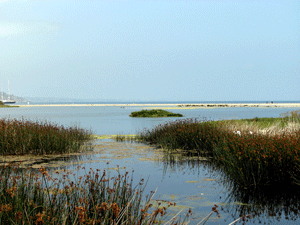 Located where the Malibu Creek meets the Pacific ocean, Malibu Lagoon State Beach is the prime spot for surfers in Southern California. The land features include 42 acres of wetlands, native plants, and sandy beach. Sightseers enjoy searching for the 200 bird species among the saltwater marsh. Pelicans, gulls, and sandpipers to name a few. The Adamson House is a notable piece of Spanish Revival architecture constructed in the early 1900's on the Lagoon. Guided tours of this historic home highlight the beauty of the world-famous Malibu Tiles which are used extensively throughout.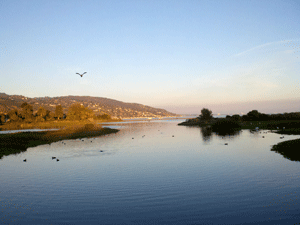 Site Info & Map
Link to the Adamson House on how to visit the site.
Directions
23200 Pacific Coast Highway, Malibu, CA 90265
Main Park Entrance: Pacific Coast Hwy 0.25 mile west of Malibu Pier and 1.5 miles east of Malibu Canyon Rd. Parking lot on ocean side of highway at Cross Creek Rd.
Adamson House: 23200 Pacific Coast Hwy. Parking lot on ocean side of Pacific Coast Hwy opposite Serra Rd.
Did You Know?

Four state parks were the triumph of a grassroots movement to protect open spaces minutes from Los Angeles in the 1950s & 60s. Three women, Sue Nelson, Jill Swift, and Margo Feuer further galvanized the movement that helped make Santa Monica Mountains National Recreation Area a reality in 1978.