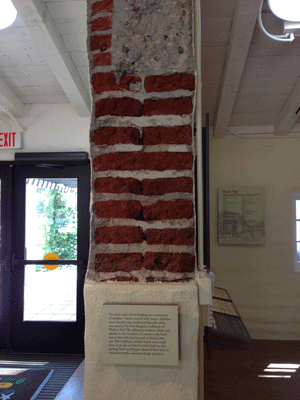 Energy and Atmosphere Credits:
All power for the Interagency Visitor Center is provided by the solar panels on the roof and parking lot. Additional energy needs for heating and cooling are provided by a geothermal system. The two systems are so efficient the center produces more energy than it consumes!
Materials and Resources Credits:
More than 90% of the materials used in the building process were recycled. Aspects of the visitor's center, such as the flooring and counter tops, were reused from the old stable or recycled materials. The thick adoblar (brick covered with stucco) walls are from local soil and keep the building well insulated.
Indoor environmental quality credits:
The building's position and tubular skylights are utilized to utilize the maximum natural daylight possible. When additional light is needed, LED (light emitting diode) lights are used to use less electricity and emit less heat then conventional CFL (compact florescent lamp) or incandescent bulbs.