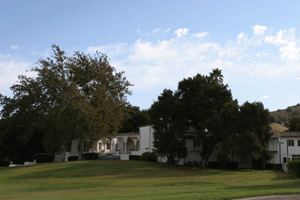 King Gillette Ranch is located in the heart of the Santa Monica Mountains and consists of 588 acres of land. With a rich history that includes the Chumash village of Talepop, the Rancho era, and the Golden Age of Hollywood, the land was developed by in 1926 by razor baron King Camp Gillette for his Wallace Neff designed Spanish Colonial Revival mansion.
The Ranch supports many sensitive wildlife and plant species. A short loop hike along the ridge provides a stunning view of the rocky outcrops of the Malibu Creek Watershed. The rolling lawns and man-made pond offer a beautiful setting for picnics.
Public interpretive programs, including weekly campfires in the summer, are offered by park staff. Overnight accommodations, meeting rooms, auditorium, and park areas are available for special events, including weddings, by special use permit.