EarthCaching in the Mountains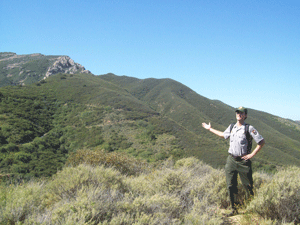 EarthCaching is similar to regular traditional geocaching except that there is no object left behind. The destination is a unique or interesting geological or geographical feature like a mountain peak.
Take a look at the different EarthCaches rangers have set-up to learn about both our popular sites and lesser known ones.
Note: These sites are more remote and do not have facilities near-by. For more accessible sites, please visit our ParkCache page.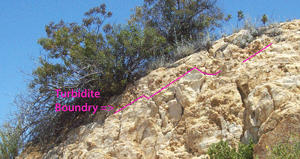 To visit our EarthCaches, click on the name of the caches to get to the link to geocaching.com for information on each of the sites and to get the coordinates for your adventure as well as find the quiz you'll come back to get your certificate.
- A View by De-fault
- Inspiration Point - How the mountains formed!
- Sandstone Peak - The top of the Santa Monica Mountains
Did You Know?

At the geographical center of Los Angeles is a national park site. At Franklin Canyon Ranch in Santa Monica Mountains National Recreation Area, you can see cityscapes and natural views. The recreation area extendes in an east-west direction running through the heart of the city.